The course was set in Little Pond with an extended mark for our Waszps this Sunday for Round 5 of the Summer series. The breeze was Southerly up to 15kts which made for some great sailing on Pittwater. We had an intimate fleet competing and experienced great, competitive sailing. Big thanks to Niall for helping out and rescuing a Laser from BYRA with a broken mast.
A key moment in the Foiling fleet with a challenging 3 lap race. Will Troop was foiling so fast he miscounted the laps and attempted to finish on lap 2. Taking a little rest behind the start boat we asked him if he completed the 3rd lap. Will then launched his Waszp again and took off for lap 3 and finished 1st . Send it Will!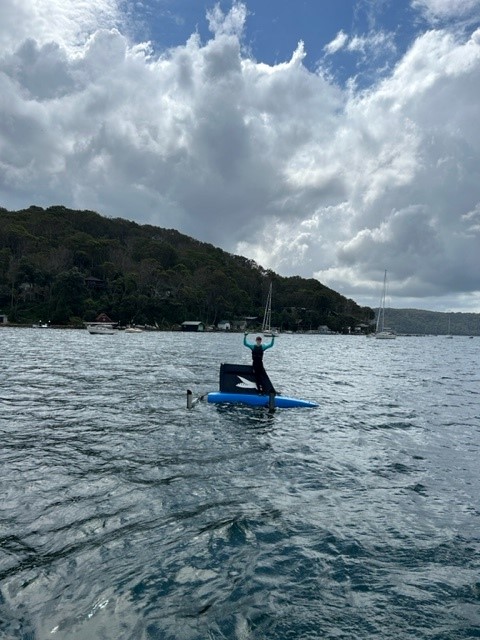 The presso back at the clubhouse was fun and a good chance to catch up with friends and acknowledge the great sailing on the day.
Remember we have a great BBQ for everyone after racing.
Prior to racing, the morning commenced with a Tackers and Green Fleet family meet & greet with around 14 families coming along to learn more about our exciting Junior Sailing program. The journey into our Centreboard fleet can be challenging to navigate for some of our novice teams. It was a great engagement where we were able to share our vision as well as answer any questions our young sailors and their parents had about how we operate as a sailing community and how we can support those starting on sailing journey at RPAYC. There was notable interest from the young sailors looking towards MJ's, Flying 11's and 29ers. If you are a current sailor and you have an opportunity to speak with one of our Greenies or Tackers families please welcome them into the community and share your experience and passion for sailing.
Come along to the Junior Fleet Racing this Sunday March 19th – All welcome including Opti – Intermediate and Open Sailors. First start 10am – briefing at 8.45am. For more information please email sailtraining@rpayc.com.au