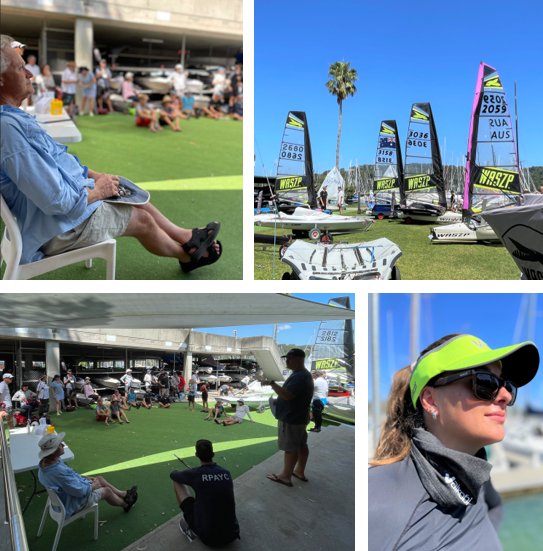 Another beautiful day for racing was delivered to us this past Sunday. Our Centreboard lawn saw over 25 boats rig and hit the water for Round 4 of the Summer Series. We had a great spread of classes across the fleet including SKUDS, Optis, Lasers, 29er a multihull and of note – a great turnout of Waszps.
The course was set in Big Pond with beautiful steady NE breeze increasing from 10knts in the first race to 20knts gusts for the final downwind run to the finish of race 3. A full 3 races were away for all classes followed by a fun race home for the Waszp's using the gate as a downwind start and a race back to the lawn. This was followed by a low key presentation back at the clubhouse.
The Waszps class has seen a good growth rate in the recent months in our Centreboard community here at RPAYC. For those sailors interested in trying out a Waszp, please contact Jervis Tilly.
There are 4 race events remaining in the Summer/Annual and Club Championships. If you haven't already completed your volunteering requirements for this season, please ensure you register to volunteer for one of the remaining race days – you will receive duty points for your service. We are always looking for volunteers, whether new or old, competitors or affiliate – everyone is welcome! Reach out to me, Scott Paulson if you are interested in joining the race committee team of volunteers.
See you on the water!
Scott Paulson, RO