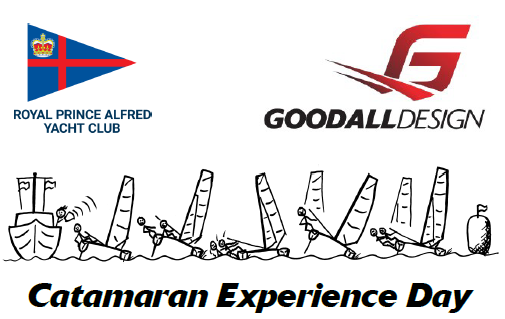 RPAYC has a long list of extremely successful off the beach catamaran sailors. Members have won Olympic medals, World and National Titles. Our sailors have won long distance races such as the Worrell 1000, Milang Goolwa and posted top results in mixed events such as Airlie Beach Race week.
On Saturday 15 April the Viper and Formula 18 catamaran sailing members at RPAYC invite you to come for a ½ hour experience on a high performance catamaran, spinnaker, trapeze – the whole lot. No foiling though as this requires a lot of experience.
The event is catered toward people who are looking to get involved in more advanced sailing on fast off the beach boats and make use of RPA's excellent facilities that make sailing these boats convenient and easy.
The Viper F16 and Formula 18 are suitable for Youth, Mixed teams, adult teams – and solo sailors over 60 kgs. Pretty much everyone who enjoys a little adrenaline rush when out on the water!
Here is a bit of what performance catamaran sailing is all about: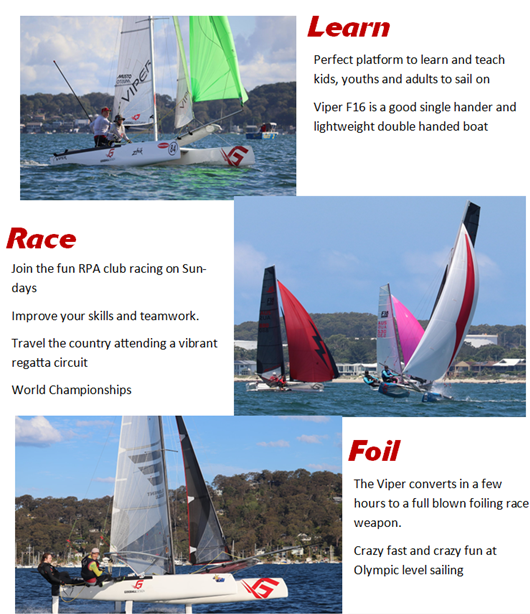 The Days Plan:
We will take you out for a sail on the Viper and F18s and you can check out and get familiar with a display catamaran on shore. Chat with members about the Viper and F18 program and facilities at RPAYC.

Let us know you are coming by Registering with RPAYC or or clicking "going" on the facebook event.
You can book a specific time by contacting Beau White the RPA catamaran representative at the details below.

On Saturday the 15th, arrive at the club and head to the centerboard lawn located in the north east corner of the club. Come chat to the member who will be near catamaran that is on display and they will get you onto the Goodall Design RIB and out onto the beautiful Pittwater to take a spin on one of the catamarans. Members will sail the catamaran with you to ensure safety and a good experience.
If you are new to the scene, ask about facilities, the boats and membership at RPA.

Kick back after sailing at the Halyards Bistro for a warm hot drink and a delicious meal.
It's going to be a great day out at one of Sydney's best sailing clubs.

For more information contact Beau White at 0411 42 65 06, beau@goodalldesign.com.au

Conditions:
• This is aimed at people with sailing experience between the ages of 12 and 60 years
• You MUST be a competent swimmer
• Bring along a wetsuit, lifejacket and if you have one a trapeze harness.
Link for the facebook event: https://fb.me/e/EsuRgdKR