Hong Kong Race Week and Asian 29er Championships Trip Report – Piper Attwood and Annabelle Sampson.
Hong Kong Race Week and the Asian 29er Championships were hosted by the Royal Hong Kong Yacht Club at their Middle Island base.
During the Australian 29er Nationals in January, we were invited to take part in this event by the Hong Kong 29er Association President, James Polson, who is trying to build this event to be part of a future 29er Oceania Championship.
The Hong Kong event was only 4 weeks away and James very generously offered us the use of his son's 29er and accommodation at his home. The time up to the regatta when very quickly and included some intensive training sessions with Lochie Prior of HM Sailing, flight bookings, leave from school applications and packing of sails and equipment.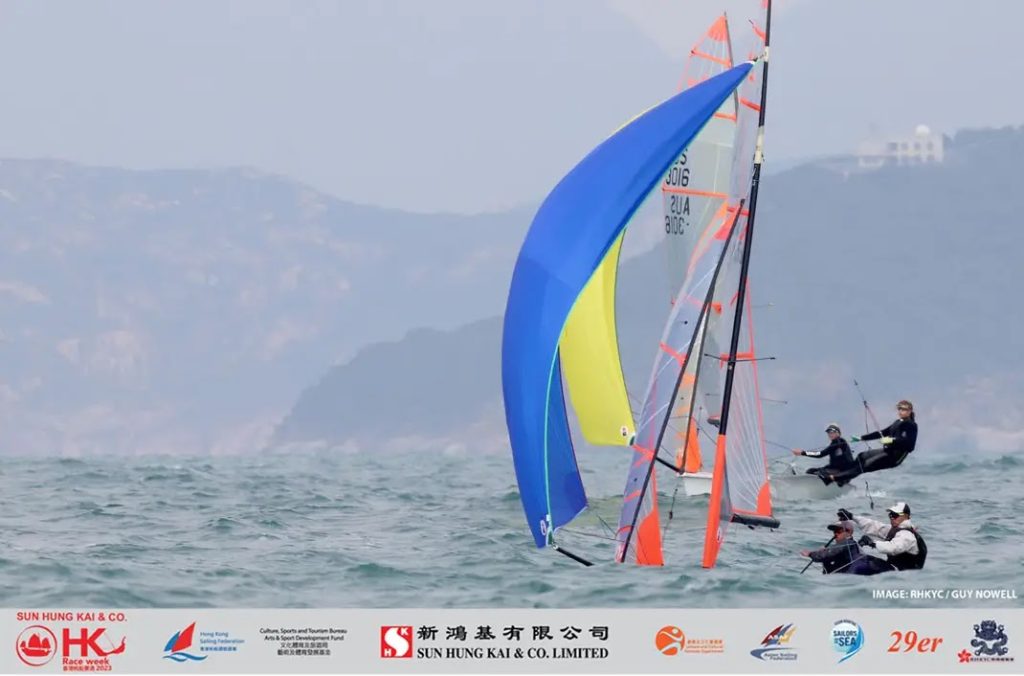 Our aim for the regatta was to be the 3rd female team or better. However, despite a promising start in the stronger conditions, on the 2nd last day a poor result due to a large on-course wind shift saw us slip to 4th. The last day glassing out meant that was where we finished. We were the 2nd place junior team which was a nice consolation prize.
The event started with 20+kts with a large swell, gradually easing during the week until the last day was cancelled with glassout conditions. The race course was at least an hour's sail from the club necessitating long tows every day. We noticed that there was a lot of debris in the water and a lot of large commercial vessel traffic around the racecourse.
There were many non Hong Kong entries in the Opti, Laser, 29er fleets and there was lots of interest from the local media. We ourselves did 5 interviews, 4 for TV and 1 for radio plus photo sessions. Our interview technique certainly improved over the course of the regatta.
RHKYC was very welcoming and the HKRW gave out the best merch ever; a dry bag backpack, jumper, beanie, rashie, towel, drink bottle and even a toothbrush!!
The next event on the 29er calendar is a 2 day regatta at WSC for the 29er GP. We hope that the intensive training and competition sailing we did prior to and during Hong Kong Race Week will show in our results. We definitely hope to be going back to Hong Kong for next year's event and we are sure that other Australian crews making the trip will also be given a warm welcome.
We would like to thank James Polson and his family for hosting us, to Lochie for helping us prepare, to our parents for making this happen, for Dave for taking us over, to RHKYC for their warm welcome and to RPAYC for their support.