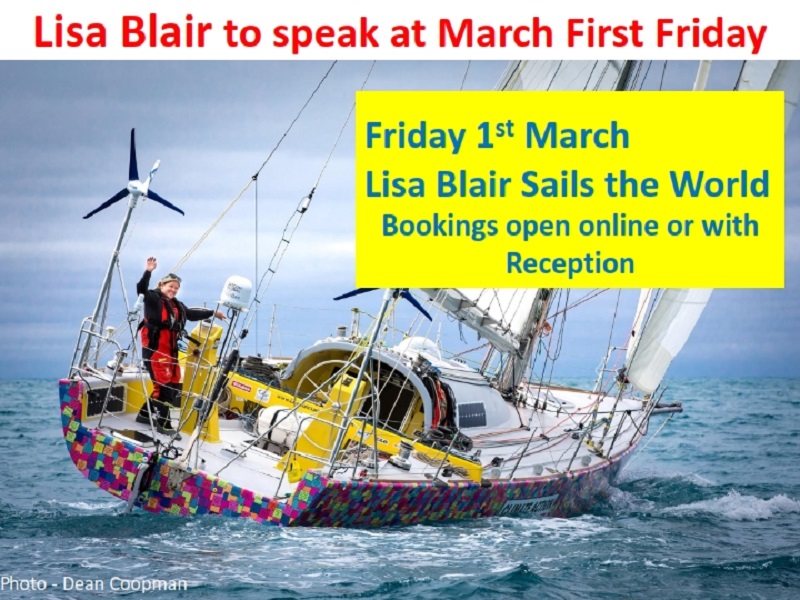 Lisa Blair is a lady who likes to go around things. She first circumnavigated in the Clipper 2011-12 Round the World Yacht Race. In 2017 she became the first woman to sail solo and unassisted around Antarctica. It took her 183 days, during which she was dismasted in storm conditions more than 1000nm from land.
Now Lisa has just completed her circumnavigation of Australia, solo and unassisted. She could be excused for being exhausted after the Australian circumnavigation. She has been sleeping in 20 minute grabs for the past two months. But you will find that she has infectious energy and enthusiasm.
She will regale us with her Antarctic adventures but also some from the Australian circumnavigation. Some excerpts from her recent blogs include:
• I had a steady 4-5 meters but every now and then there would be this incredible set of waves that would come through standing steep and tall at well over 8 meters.
• It was a wild ride and I was sailing on such a knife edge so far downwind that any slip-up and I could crash gybe in 35 knots which would definitely break something or get rounding back up and pinned again. Boy was it fun.
• I finally conceded defeat and realised that I would need to climb up the inner forestay to get the grub screw in before the sail would come down.
• I use the acumen WOBBLE with my engine checks it stands for Water, Oil, Batteries, Belts, Leaks, Electronics.
• I started to hear the sound of lots of water sloshing around. I opened up the inspection hatch for the collision compartment forward and found what looked to be over 200 litres of water in the bottom of the boat sloshing around.
• One is when considering higher winds and is 'if I am thinking about reefing then I need to reef' and the other is when the winds are light and I am keen to sail full throttle but I don't wish to waste my energy I apply the 'Cup of Tea' Rule.
• My radar didn't pick them up as they are a wooden craft so there is nothing to reflect from. It was a shock and not one that I am very comfortable with given that I was alone on my yacht and 100nm from land.
• Last night was another ripper of a sunset with the sky lit up with pinks and oranges.
• I climbed out the hatch I got quite the shock as I came face to face with a large seabird that was just perched on the rail of what is now becoming the feathered inn of the high seas.
• Eventually, I was released from the currents and the winds filled into a light 5 knots which was enough to get me moving in the right direction again just in time to watch an epic sunset.
• I can honestly say that this was one of the best decisions of the night as I took the helm to drive the boat through this gap in the reef. I was still surfing waves at 16 knots even with the reduced sail up but when the 40 knots of wind hit I was safe. I did find myself laughing like a mad woman in the night.
You can read more of Lisa's adventures via her blog.
Lisa is a Master Class 5 skipper and the recipient of the Australian Geographic's Spirit of Adventure award. She is one of the gutsiest sailors you will ever meet. And she tells some inspiring stories too.

Make sure First Friday in March (1st March 2019) is in the diary. Who knows, you might be tempted to sail out of your comfort zone.

Click here to book.