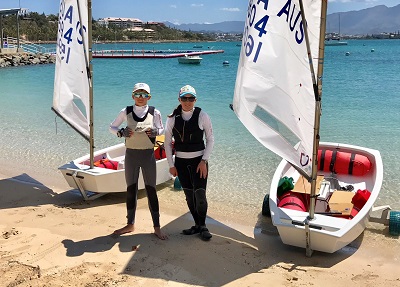 Two RPAYC Centreboard sailors Olivia Williams and Cooper Bellingham recently represented the Club as part of the Australian Optimist Development Squad – AODS (made up of the top 8 sailors 12 years and under) in beautiful New Caledonia.
The Regatta annually hosted by SRC Noumea brings together the U12 years New Zealand team, the U12 years Australia team and local New Caledonia sailors resulting in tough competitive races.

The venue was amazing with warm crystal clear water and wind between 15-25 knots each day and an abundance of sealife - tropical fish, turtles, the occasional dolphin and all to regular sea snakes.

The team arrived early and undertook a 3 day training camp prior to the regatta exploring the local waters and getting familiar with the local conditions. The regatta was over 4 days with 17 races completed in building winds, our RPAYC sailors performed well with Olivia Williams finishing 5th (and 2nd girl) and Cooper Bellingham finishing 11th under the guidance of the AODS Coach Alison Dale.

Overall the Australian Team performed well up against some tough competition from New Caledonia and New Zealand with the locals taking the top two places on the podium and Eddy Reid from Tasmania taking 3rd.

Overall a great Regatta, great experience, awesome French food and a special place to sail with lots of learnings to take away for our next Regatta.

We were thrilled to proudly represent RPAYC and would like to thank the Club for their support along with our coach Tom Brewer from NB Sailsports.
- David Williams