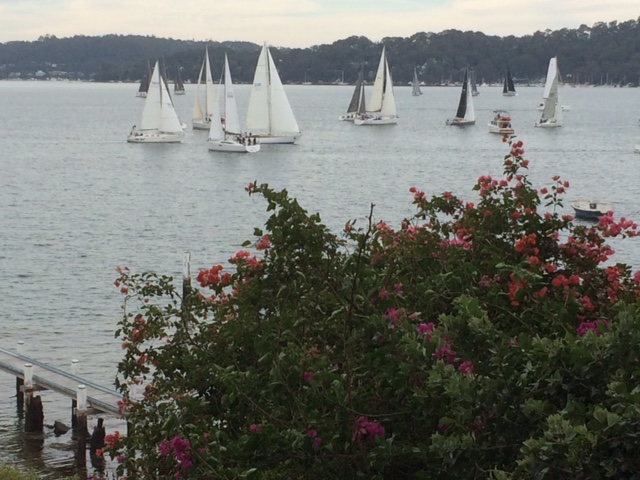 Greg was particularly attracted to the timber selection and the build for 'Pitt Point' on Scotland Island and, along with Louise, they have always loved living in it.
Greg has built a number of wooden boats through his life, including the commuter boat on L6.
Again, from the 'Houses' article on 'Pitt Point':-
'Walls, posts and beams, and the cathedral-like ceilings are all clear-finished No.1 grade Oregon, sculpted with millimetre precision by a team of carpenter craftsmen.

It's reminiscent of other notable works by Woolley, including his own house at Mosman and the stunning St Margarets Chapel in Surry Hills – his first independent commission'.
The building is planked with Western Red Cedar, all fixed with copper nails – coated with stain (not paint) – all guttering and downpipes are aluminium - so it has been easy to keep in good shape.
Clearly, no expense was spared in this build.
The article in 'Mansion – Interiors' noted (March 2018) …'Woolley's work was considered part of what became known as the Sydney school, an architectural movement that reacted against international modernism and focused instead on a regionalist style that embraced Australia's bush landscape rather than working against it'.
As for getting to 'Pitt Point' – from RPA to the house, it's less than 8 minutes.
More information, with many photographs and some historical background are available on the RPAYC web site (LINK) - also at www.modernhouse.co/listings/pittwater-waterfront/ 'Pitt Point' by architect Ken Woolley AM.
More historical information on Scotland Island and Andrew Thompson is available as follows:-
• A very thorough and interesting account of Thompson, back in England, then his life in Australia is at http://www.pittwateronlinenews.com/andrew-thompson---pittwater-patriarchs-history.php
• A shorter account can be found at www.visitsydneyaustralia.com.au/scotland-island.html .
• Also www.cawb.com.au/andrew-thompson.html .
• Another interesting one is https://dictionaryofsydney.org/entry/scotland_island
All part of the fascinating story on the development of Sydney and the Pittwater area.