It's our pleasure to advise our valued members, their guests and visitors that RPAYC Clubhouse will be reopening from Thursday 4 June 2020 in line with the State Government's conditions for re-opening Clubs and Hotels.
The following conditions will be managed that permit us to re-open as we take every precaution to ensure that all members, guests and employees are safe in our club.
Food and Beverage Services
Our new bistro service will open Thursday through Sunday for lunch from 11.30am, Saturday and Sunday for Breakfast from 8.30am and Friday night for dinner from 6pm, however due to Covid-19 restrictions, the bistro will be only be open for seating upstairs in the Edinburgh Bar and Admirals Cup Room. Bookings are essential with no walk ins accepted. Bookings can be made through reception on 9998 3700 with a maximum of 8 person per booking. We will only be accepting 25 patrons in each room with specified seating times, with social distancing rules applying. Entry will be via the front reception door.
We will continue to operate our Grab and Go takeaway from Halyards 7 days a week from 9am to 4pm.
Entry will be via the back of the Club, adjacent A-Arm parking spaces.
The function areas of the Club will remain closed until conditions are eased.
All birthday vouchers will be extended 6 months for financial members and can be used at the Bistro.
Physical distancing
We will take all reasonable steps to ensure members and employees comply with Safe WorkAustralia's 'physical distancing' standards applying to hospitality venues, including floor markings and signage, and staff will be onsite at all times as part of the Club's strict safety measures.
At this time members cannot stand around bar areas, walkways or in groups, and must be seated unless you are moving to another part of the club.
We will prominently display any mandated CovidSafe signage that has been issued by relevant Government authorities.
We will manage physical distancing as part of all on premise and takeaway services.
Employees have been certified and trained in Hygiene / COVID compliance prior to re- commencement of their respective employment.

Dining Groups
Patrons are to be seated at all times unless moving throughout the venue. Gatherings are not permitted.
The 1 person per 4 square meter rule must be adhered to at all times.
Meetings
Wherever practical it is encouraged that meetings continue to be held by electronic means.
Where 'face to face' meetings are required: -
• Maximum of 10 committee members (for the time being) + any support staff
• Practice physical distancing where practicable.
• Practice good hygiene before and after meeting.
• If any committee member is unwell they must stay home.
• Meetings must be booked in advance (preferably 48 hours prior) through Club reception.
• 'Sign-in' process is required.
• Meeting tables are to be disinfected prior to the meeting and at the conclusion of the meeting.
• Meeting organiser must offer committee members the ability to join the meeting by
electronic means and should encourage that more vulnerable members join the meeting by
electronic means.
Sailing Activities
Sailing commences at the Club from Saturday 6th June, 2020, with the Lion Island Series.
Current ten person per boat restrictions are in place until further notice.
Crew lists are required weekly for all organised races & training participant registers.
Get in, Sail, Get Out.
See information on Sailing requirements in the relevant NoR's and here –
Let's Go Racing
.

Cleaning
Whilst the Club has been closed, we have undertaken a deep clean of the entire venue spaces in preparation for our re-opening.
We will be regularly cleaning areas and surfaces that are frequently touched, observing Safe Work Australia's 'cleaning' standards applying to Clubs.
Hygiene
We encourage members and guests to adopt Safe Work Australia's 'hygiene' standards applying to hospitality venues, and we will be encouraging members to clean their hands regularly. Alcohol- based sanitiser are available at Club entries and exits, as well as other locations throughout the Club Boatyard and Jack Gale Centre.
We will encourage contactless payments at point of sale stations where signage will be displayed.
Restrooms
We have always maintained clean restrooms at RPAYC and we will now be taking additional measures to clean and promote hygiene in our restrooms. The bathrooms in the Clubhouse downstairs will remain closed inside with access from the outside road. The upstairs bathrooms will be open for use by members dining in the Edinburgh Bar and Admirals Cup Room. The bathrooms at the centreboard area will reopen on Sunday 7 June.
We will clean frequently touched surfaces more regularly.
Members and Guests Screening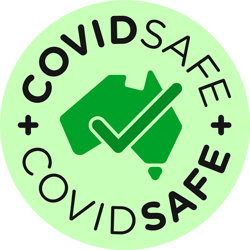 If we reasonably believe a person on our premises has a COVID-19 symptom (defined below), we must:
• Ask the person to be removed from the premises;
• Notify the person that they should be tested for COVID-19 at the nearest testing location being Mona Vale Hospital;
• Isolate the person to either the Jack Gale Centre or Regatta office if required.
The COVID-19 symptoms are:
• cough;
• fever;
• fatigue;
• sore throat;
• shortness of breath
Two member card and drivers licence scanners are located at reception. Members will be required to swipe their member card upon entry and again on exit.
The scanners will ensure venue compliance upon entry and exit. We will record the names of all members and guests entering the premises on any day.
We strongly encourage patrons to download and use the
CovidSAFE app
.
We will notify NSW Health when aware that a person with COVID-19 (including an employee) was on the premises.
Safety first
Our primary objective is to create a safe environment for our members, guests and staff.
We will ensure we fulfill our obligations under the Work Health and Safety Act 2011 (NSW) and maintain our duty of care to our employees, and to persons on, or seeking to visit our premises.
RPAYC employees are discouraged from engaging in personal contact, such as the shaking of hands with fellow staff, members, guests and visitors. Please do not take this in any other way than as a preventative and control measure to help prevent the spread of viruses.
The Club is also instituting frequent sanitisation of 'high touch areas' including bathrooms, door handles and buttons.
RPAYC will continue to monitor the advice of the Australian Government, NSW Government and Clubs NSW and implement changes as we are advised accordingly.
NSW Health has also offered the following advice for members and guests:
Stay home and do not attend if you are feeling unwell
Stay home and do not attend if you have travelled overseas in the past 14 days
Should the advice from the NSW Government or Australian Government change, the Club will update its policies accordingly.
While onsite at the Club, employees, members, guests and visitors are encouraged to practise good personal hygiene including:
Cleaning your hands regularly for at least 20 seconds with soap and water or use an alcohol-based hand rub
Cover your nose and mouth when coughing and sneezing with a tissue or flexed elbow
We take our re-opening seriously and we have implemented a number of measures in our dining facilities including:
• Removal of cutlery from all tables. Cutlery will be delivered with your meals
• Increased sanitation of all work and public spaces
• Additional staff training
• Removal of 'help yourself' sauce and cutlery stations
Persons who do not cooperate with our advice in relation to COVID-19 will be asked to leave our premises.
We request your complete cooperation and understanding as we commence reopening post lockdown and continue our commitment to offering a first class experience our community can enjoy.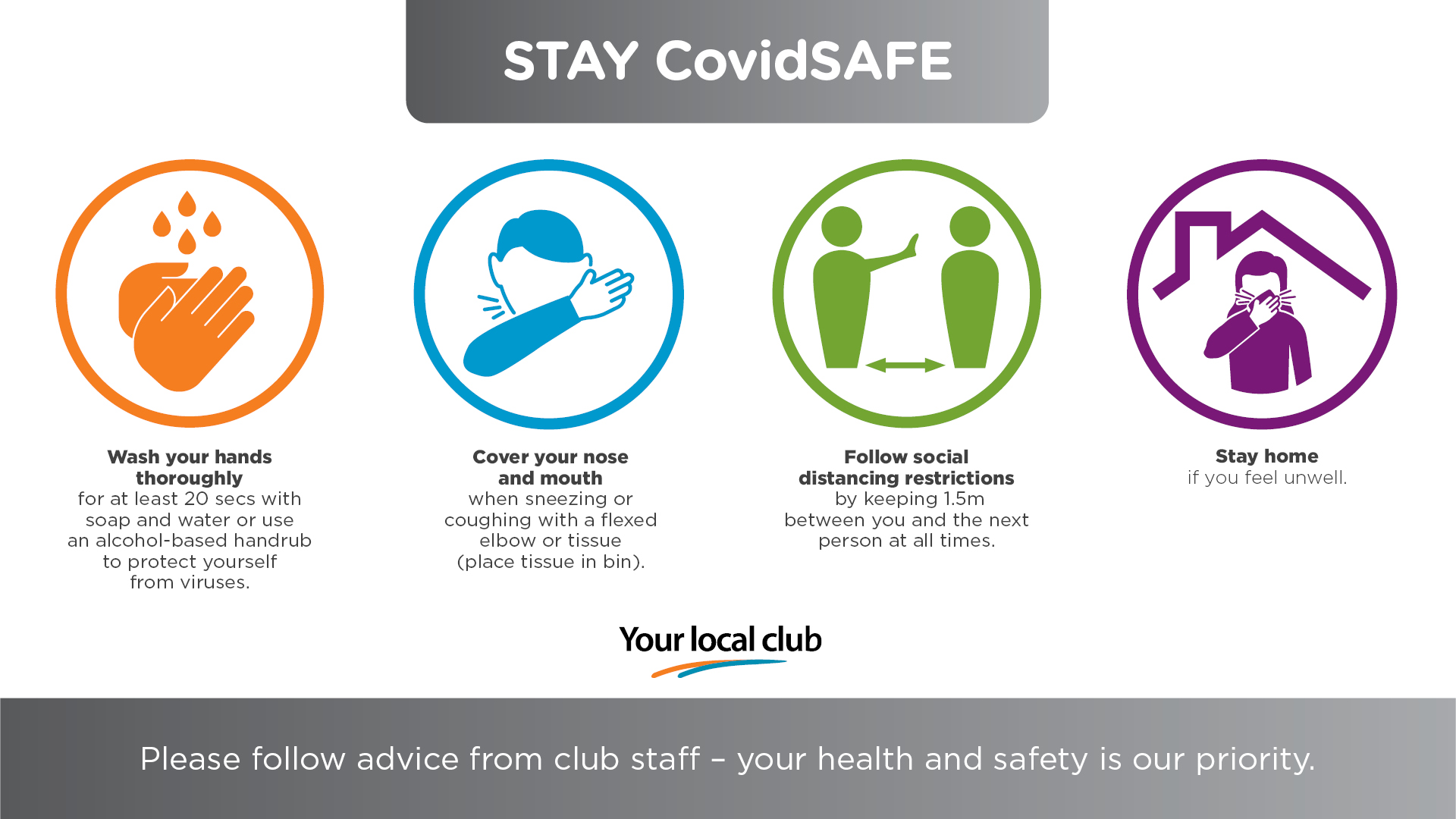 Our Board, Management and Staff will endeavour to ensure that our Club is a safe place as weprogress through this staged re-opening process, where we can regain some form of normality and enjoyment post this disruption to our lives.
Further updates and changes may apply. If you have any questions, please liaise with our management team.
Thank you for your patience, understanding and support. On behalf of the entire team, we lookforward to welcoming back into the Club from Thursday 4 June 2020.