Nathan Bryant has just returned from the Australian Nationals and Youth Nations where he and his skipper Georgia Payne were honoured to take out the title to represent Australia in the 2020 World Sailing Youth Worlds regatta to be held in San Salvador, Brazil.
'We started the year with a bang! Georgia Payne and I have just finished the first regattas of 2020 in the Nacra 15. After a tough few weeks of racing on Port Phillip Bay we've managed to secure the spot to represent Australia in the 2020 ISAF Youth Worlds regatta to be held in San Salvador, Brazil'.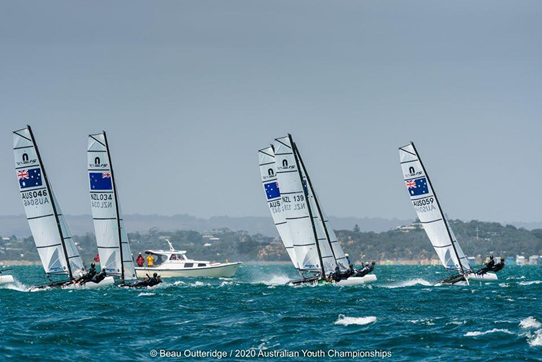 We're incredibly thankful to be given this opportunity to represent Australia, it is a great honour to be able to participate and represent your country in any sport.
We are so proud of what we have achieved so far in the Nacra 15 as we've only been sailing together in the Nacra for the last 11 months.
Congratulations to all the sailors as there was some extremely tight racing. We experienced some tricky conditions from high winds and chop to no wind and heavy smoke. We were lucky to be racing and enjoying our sport when so many Australian were suffering far more challenging situations than we were. Thank you to the race committee and all the volunteers for running once again some great regattas.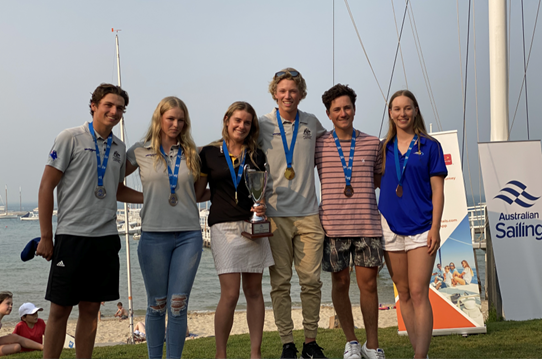 We would like to thank Nacra Australia, Lancelin Ropes, Vaikobi, our home clubs RPAYC + SOPYC for their continued support in our journey. A huge thank you to our incredible coach Mikeal Lundh and parents who hasn't stopped believing in us and supporting us throughout this amazing journey.
We have a few days off now for a well needed rest before we start to train and plan our schedule for 2020. Both Georgia and I are in our final year of school and realize that it will be a balance of academic and sport but we hope to get out on the national and international circuit and do our best so we can be the best we can be for the Youths World's at the end of the year. Thanks to all our family, friends and supporters, we couldn't have done this without all of your encouragement.
Looking forward to some more great racing this year in Australia and around the globe!