Australia Day long weekend Dicko Cup and Avalon Sailing Club Australian Day Regatta.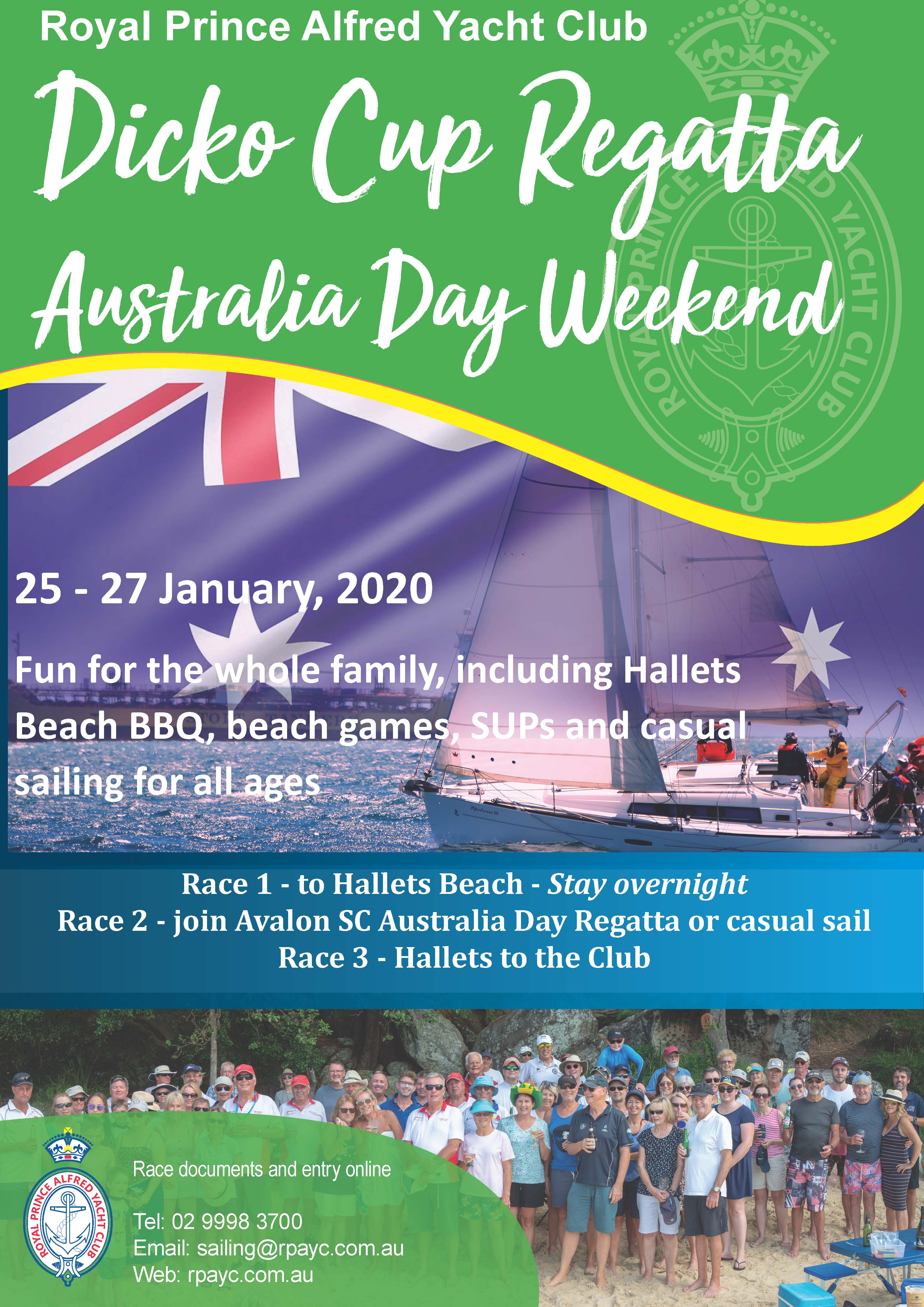 Avalon Sailing Club is proud to be hosting the 184th Australia Day Regatta on Pittwater on January the 26th, 2020. The Regatta will be held in two parts – a Yacht Regatta and a Centreboard Regatta. This year ASC and RPAYC are joining forces to make it a bigger and more celebratory, fun event.
The Australia Day weekend will consist of 3 yacht races -
Race 1 - Saturday 25th, starting in the vicinity Scotland Island and finishing at Hallets Beach. Post race bbq on the beach. Stay overnight on your vessel.
Race 2 - Australia Day, Sunday 26th, will start in the vicinity of Coasters Retreat with a finish and prize giving at Hallets Beach. Enjoy beach games for all ages.
Race 3 - Monday 27th, a return race from Hallets Beach to vicinity Scotland Island.
The Centreboard Regatta will take place on Pittwater on Australia Day, Sunday 26th. On conclusion of this race the centreboard competitors and their parents who wish to do so, will be taken by motor boats to Hallets Beach to join the Yacht competitors for the prize giving and a celebration BBQ and drinks on the beach.
NOR for the Dicko Cup event through RPAYC website, NOR for Australia Day Regatta only ( Yachts & Centreboards) through ASC website.
We are inviting RMYC, WPYC, BYRA, PBYC and PAC members to join this historic Regatta to make it a truly celebratory and memorable event.
We expect the divisions for Centreboard to be Optimist, Manly Junior, Open Bic, Flying 11, Spiral, Laser. Yacht Divisions to be Spinnaker, Non Spinnaker, Multihull, Couta and Wooden boats.
Allen Stormon. Rear Commodore Yacht Racing & Larry Eastwood. Commodore ASC