If you are serious about getting into shape and don't need all the frills and attitude, the RPAYC gym offers a very comprehensive training facility and a casual friendly atmosphere. The gym has numerous weight and cardio machines and our onsite professional fitness trainer, Tana Anderson and her team of professional trainers, can prepare a program to suit all abilities.You need to be an RPAYC member to use the gym.
The focus of Sailfit will be on creating an environment that is welcoming and results driven, whether your objective is general fitness, sailing related or weight loss we will help you get there. Members may use the facility independently, engage a personal trainer or join a class.
Sailfit Opening Hours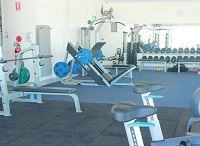 Monday-Sunday 5am-8pm
Sailfit Annual Access Fees
To cover the costs of the Sailfit operation, those members using the facility will be required to pay an annual access fee which coincides with the annual subscription year May – April.
The Board have recently approved to extend the eligible spend of House Entitlement to cover all RPAYC conducted training, including the Sailfit access fee.
Full Members

$169.00 pa

Intermediate Members

$294.00 pa

General Members

$294.00 pa

Full Family Membership *

(access for whole family)

$463.00 pa

Youth Members

$169.00 pa

General Family Membership *

(access for whole family)

$588.00 pa
*Individuals of Family memberships may choose to join Sailfit and pay only the single member fee.
*Fees will coincide with member's annual subscription, but if you are joining mid year that we can offer to pro-rata the fees.
An induction is required for all members prior to using Sailfit. Please contact Tana Anderson 0478 034 659 to organise a time to have your induction.
Trainers
Tana Anderson – Sailfit Supervisor
With 13 years' experience in the health and fitness industry plus 15 years playing tennis at an elite level, Tana brings a wealth of knowledge and experience to her training. She has spent the last 10 years working with sailors of all ages and levels and is committed to providing the best Sailing fitness program in the world. Tana's passion lies in educating her clients on a holistic and healthy view of health and fitness guiding them through a nutrition and exercise program to suit their specific needs. Tana's specialties are strength and conditioning, strength training, fat loss transformations, training for over 55's, nutrition and holistic wellness, and peak performance and mindset training.She loves nothing more than helping her clients to achieve amazing results they never thought possible. Contact Tana on 0478 034 659
Dan Cook - Trainer

Dan comes with a wealth of knowledge and experience having been involved in the fitness industry for a number of years as a gym operator and Personal Trainer. He focuses on delivering fun and results driven 1on1 Personal training sessions and challenging group exercise for sailors. Dan specialises in weight loss and nutrition, rehabilitation, Strength training and sailing specific strength and conditioning. Contact Dan on 0431 834 242
Class Timetable
Monday

Tuesday

Wednesday

Thursday

Friday

Saturday

6am 'Fit to Sail'Dan

6am 'Fit to Sail' Dan

6am 'Fit to Sail'Dan

8am HIIT/Strongman Class

Tana

6.30am Functional Movement & Conditioning Tana

6am Advanced strength and conditioning Tana

6am Advanced strength and conditioning Tana

8.30am

Ladies Movement & Conditioning

Tana

8am

Ladies Circuit Training Class Tana

7am Functional Movement & Conditioning

Tana

9am Stretch Class

Tana

8.30am

Ladies Circuit Training Class Tana