It's the Twilight Season! Three Twilight events are scheduled this season so there is something for everyone.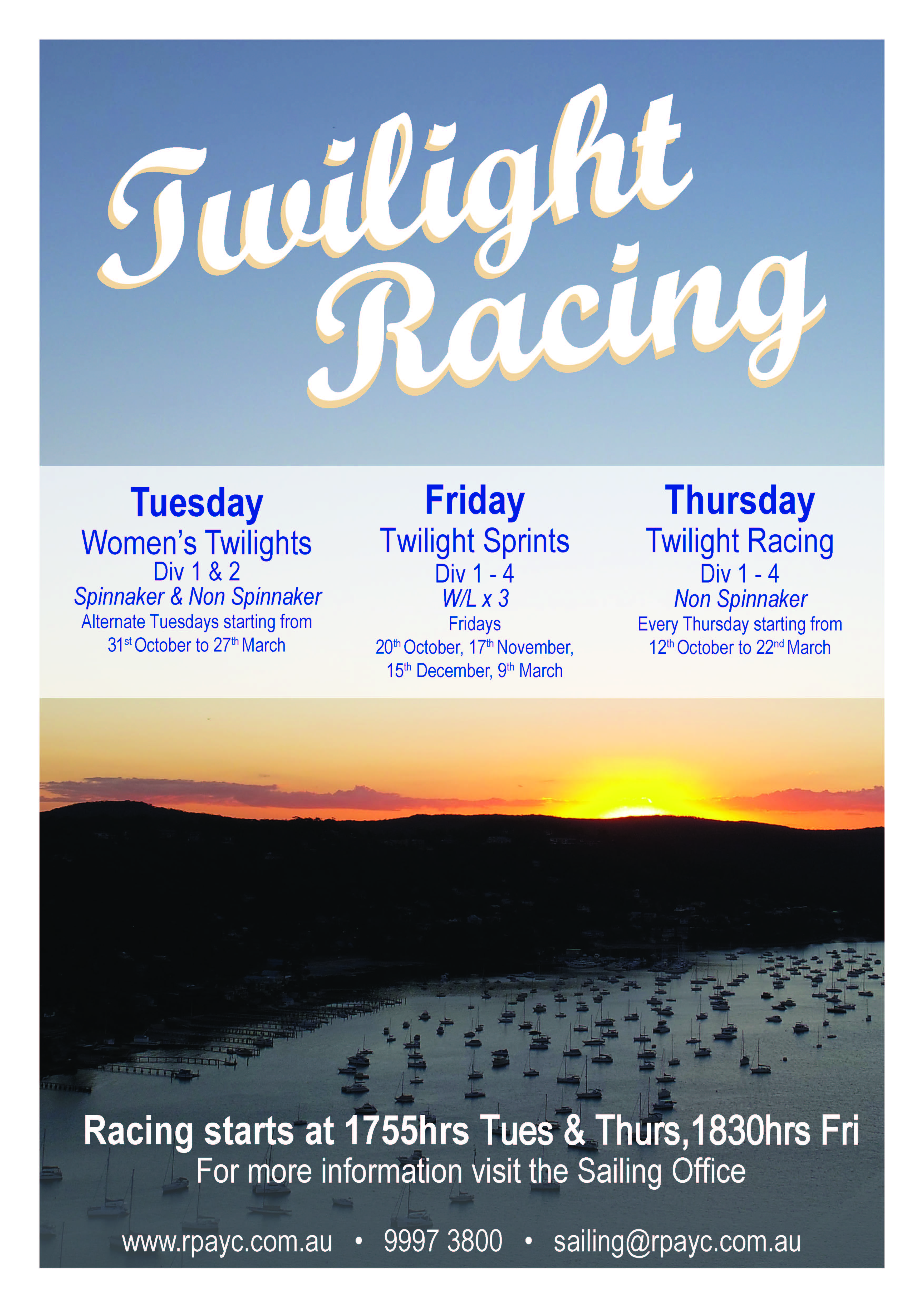 Thursday Non-Spinnaker Series
The Thursday Non Spinnaker Twilight season begins this Thursday 12 October, with a non pointscore race. The Spring Pointscore Series commences on the 26 October.
Racing starts at 1755hrs for Division 3, 1800hrs Div 2 and 1805hrs for Div 1.
Women on Water Sailing!
Tuesday Twilight is tailored specially for women sailors. Race 1 is Tuesday 31 October.
If your spouse/partner owns a boat and you would like to take it sailing in this ten race fortnightly series, please let the Sailing Office know who can assist you with your preparation. We have a number of keen crew who are looking for boats.
Need crew or wish to crew? See below for crew details or let the Sailing Office know.
Friday One Design & Sports Boat Mini Twilight Regatta Series
NEW for 2017/18 season is the short Friday Twilight Series scheduled over the peak daylight savings period. The Series is designed for One Design and Sports boats to enjoy windward / leeward races returning to the Edinburgh Bar for some sunset drinks and nibbles. A great event for those that have busy weekends or wish to compete in up to three short sprint races with fellow mates and family. Contact the Sailing Office about leasing a Elliott 7.
Sign-Up Your Crew for the Twilight season
Skippers - why not get your crew to sign up and become a member of one of the premier Yacht Clubs in Sydney, receive all the benefits of being a member and enjoy racing on Pittwater this twilight season! Membership fees will be pro-rated - that's around $25 per twilight race! Contact our Membership Co-ordinator for more details or pick up a Membership Application form at Reception.
Need Crew for the Sailing Season?
Sail Connect is a App based system that allows you to find crew or boats needing crew and also manage your race by race crew needs. Please note that Crew With me has advised that they will not be playing in the market of finding Race crew but shall remain supporting those that are looking to sail for leisure along with the other activities their system supports.
To download - Click here for the Sail Connect app
Five Top Tips for Connecting with Crew & Skippers through MySail
Whether you're into something fast, fun, competitive or cruisy, there's likely something out there that's right for you.
Keeping your yacht or crew profile up-to-date, being proactive and replying to messages in a timely fashion all help you connect with the right sailors or skippers.
Click here for My Sail team.