What I Learnt and How to Plan a Campaign
With Fletcher & Murray Walters
Friday 16th March in the Jack Gale Centre at 18:45.
Open to all dinghy sailors and parents, and especially Opti Intermediate and Open sailors, also good for 4.7 kids as well, or even super keen Greenies.

6:45pm – 8:30pm
Murray Walters will speak on event considerations.
Fletcher's top 10 tips for regattas from a kids view.
Fletcher's favourite sailing gear and accessories to consider.
Fletcher's top 10 rigging and setup tips.
Fletcher's technique tips on sailing Optis faster and higher. (we'll have his boat rigged up on the lawn)
Murray's top 10 tips for parents.
How to capitalise on Club facilties e.g. Sailfit and RPAYC gym facilities.
Clubhouse entrance & footpath works
Installation works on the front entrance breezeway are underway and will see access through the main clubhouse doors closed between 0700hrs Monday 26 February to Wednesday 28 February 12 noon. Temporary acces to the clubhouse building will be via the blue pathway adjacent the breezeway that opens onto the Terrace. On Thursday 1st March, the jibrock setters / painters will be back to complete works.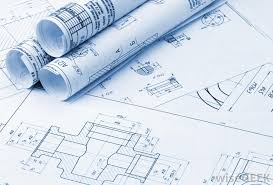 Guests to the club will be required to sign in at the desk located opposite the Regatta Office. Access to reception and the office will be via Halyards.
POSTPONED: Concrete works to the pedestrian pathway at the Club main entrance and down in front of the tenant building are scheduled for 0700 Monday 26th February. Contractors will be onsite to remove all the broken pavers in front of the Tenant building in preparation for a concrete pour on Tuesday 27th, the centre garden area will be opened to allow parking for visitors to the tenants building, the carparks in front of the tenant building will remain closed to cars for 2 weeks to allow the concrete to cure. Road plates will be layed at the top of the ramp down to Greenpoint so access can remain. Reminder that there will be no vechicle access to the Greenpoint Hardstand from 0700 Monday 26th February until Wednesday 28th February to allow for these works.
Northern Havoc takes out 2018 Etchells NSW Championship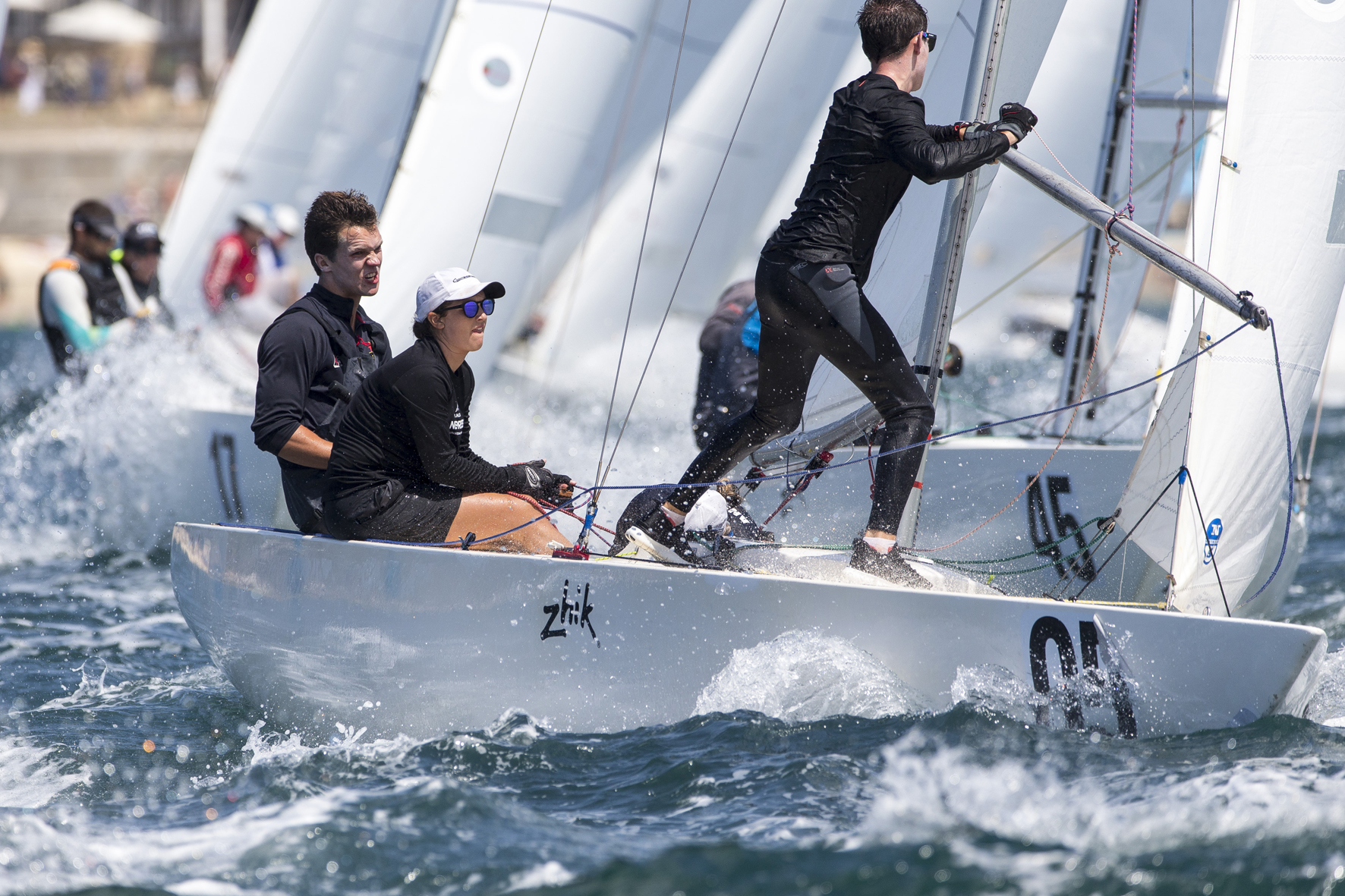 PAYC youth Team on Pam - Credit Andrea_Francolini
Iain Murray's Northern Havoc sailing for the Royal Sydney Yacht Squadron and Chris Hampton's Tango from Brighton, Victoria, maintained the rage to finish first and second at the 2018 Etchells NSW title sailed on Sydney Harbour in superb conditions.
"We've had lovely nor'easters for the past two days and quite strong ebb tides which really opened the race course and the opportunities, and you could see this in the scores," Murray commented. "You had to get a good start and get up that first beat. It wasn't easy. We had some good races and some less so - in the end our tough races weren't as tough as for others."

20th 2107 Racing – Jason Antill and Dave Taylor
25th Seawings – Tom Brewer
26th Pam – Will Dargaville (Pictured above, Credit Andrea Francolini).
28th Whisper – Mal Parker
RPAYC results for the RPAYC Etchells were:

15th Whisper 11 – Bruce Ferguson
16th Flirtation – Matt and Rob Crawford
Murray and Hampton finished day one Captain and Commander respectively, and that's how the final series scores panned out, just a single point separating the two front-runners after three days of hard grind hosted by the Sydney Etchells fleet.
"Iain and his crew really won the regatta on Saturday when they carried on with a broken backstay in the second race and then with a jury-rigged set-up posted a good score in race 6," said Sydney Etchells Fleet Captain Mike Tyquin adding, "That performance really underlined how well they sailed".
Martin Hill's Lisa Rose moved into third overall from a 40-boat fleet representing NSW, Western Australia, Queensland and Victoria. Hill is spreading himself across two classes approaching the season-end; the Farr 40 nationals next month at the Royal Sydney Yacht Squadron as skipper of HillPDA Racing and the 2018 Etchells World Championship.
"This was our first regatta as a team on the new boat and we are building up to do as well as we can at the Brisbane worlds in October we've luckily already qualified for," said tactician David Chapman. "We have a three-year campaign planned and we are trying to work out the best crew fit. Martin steers, Julian Plante's on main and he used to steer, I'm doing tactics and I used to do main and Mark Langford is on the bow.
"In two weeks we are going to defend our Etchells NZ National Championship title, then we'll do the Victorian States and then we are ramping up for the world championship at RQYS. We've committed to next year's worlds in Texas then Fremantle the year after. After that Martin will decide whether he's happy to continue; as he says, 'it's the best fleet in the world'," Chapman added.
Etchells NSW Championship, Murray leads after Day 1
Day 1 video https://youtu.be/k0BebdIz7y8
Three races into the 2018 Etchells NSW Championship and the 1984 class world champion Iain Murray and one of his crew from that campaign lead the series and an A-grade fleet.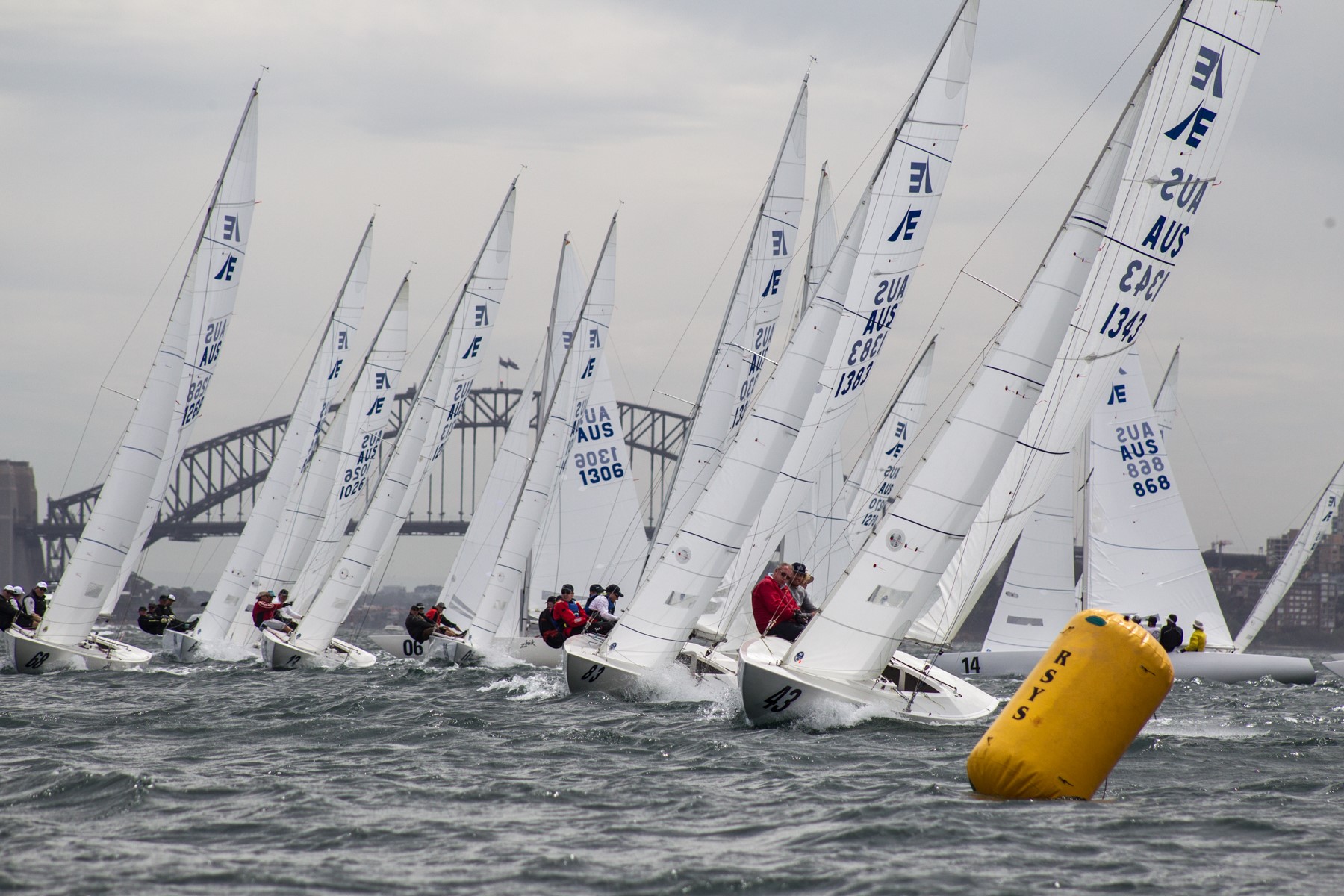 2018 Etchells NSW title fleet upwind_credit Darcie C Photography
Each race produced a different top three on day one, Friday February 16, 2018, sailed in average 15 knot sou'easters on Sydney Harbour under the Royal Sydney Yacht Squadron and Sydney Etchells fleet banner.
Murray's Northern Havoc leads Chris Hampton's Tango, the defending NSW champion from Victoria, and Tom King's Iron Lotus, another former world championship heavyweight.
"We had a good day considering we started with a recall in race one," Murray said. "The sou'easter was pretty gusty giving quite a lot of opportunities for shifts. There's plenty of golf left in this game.
"Paul Westlake was one of my winning crew in 1984 so other than the odd day yacht here and there it's been 34 years between drinks." Grant Simmer will replace Westlake when it comes to Murray's final world championship line-up, with Richie Allanson the third crew member. "Richie and I are two peas in a pod," the Australian Sailing performance director added.
Hampton hasn't reached the heights of world champion yet, but he's managed some noteworthy class results and on debut at the state title was well placed among the talent pool he says goes very deep.
"Our results improved as the day went on; we don't have any local knowledge and having an island at the top end of the course was a new experience for us, and a bit of a handicap for the visitors. Our boat speed was good and we could hold lanes. We are on a worlds campaign taking in the major regattas and we'll just keep pushing on."
Second in race one was Peter Alexander, a popular four-decade long Etchells veteran whose nickname is Pierre le Grand and boat name is Tonic. Explaining the moniker he says: "I had previously used long names and wanted a short name that was not serious, so Tonic, as in life not the drink with Gin, filled the brief."
Etchells NSW Championship - the path to the worlds
The Australian Etchells fleet is edging towards a world championship in Brisbane and the NSW title regatta on Sydney Harbour this weekend is an important opportunity for those crews with a worlds challenge brewing to test their mettle against some of the class' best.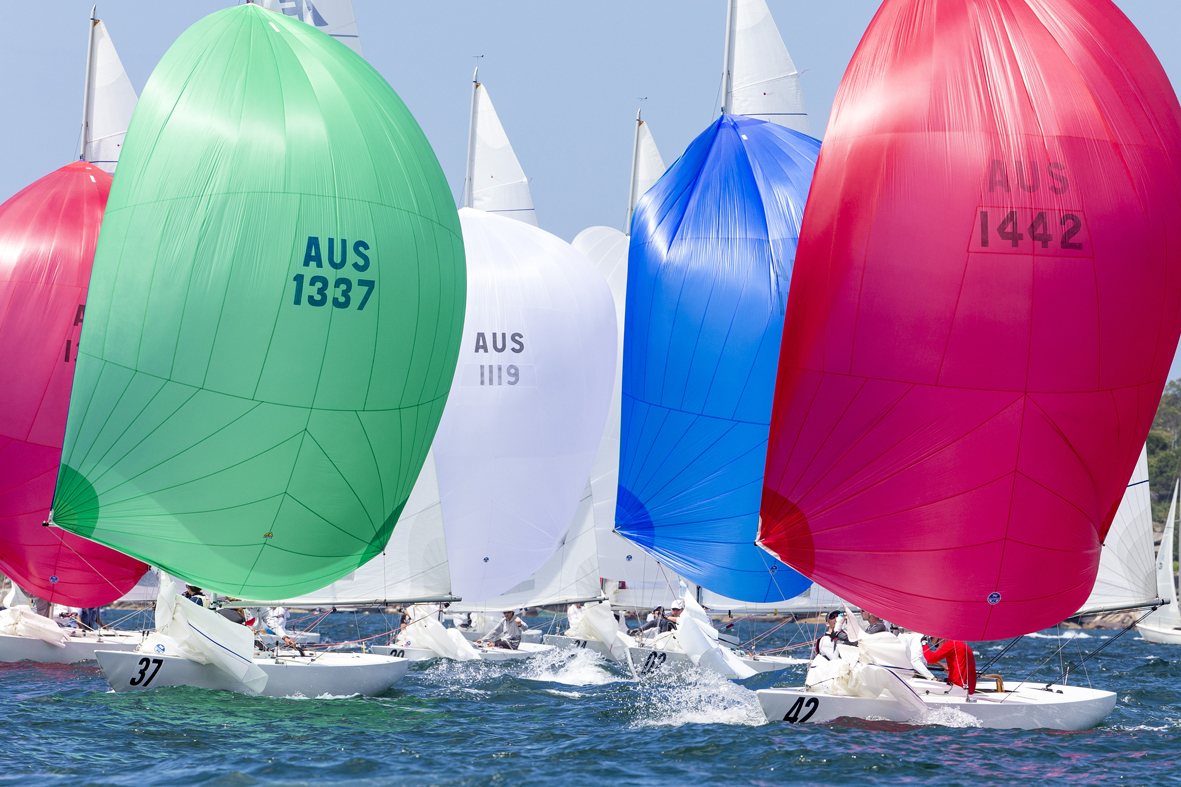 EtchellsMilsonGoblets2017 colour the harbour_credit Andrea Francolini
Four Queensland entries plus one each from Victoria and Western Australia are making the journey to join the majority NSW contingent in the three-day regatta, February 16-18, hosted by the Sydney Etchells fleet out of the Royal Sydney Yacht Squadron.
A strong fleet of 41 Etchells will commence their NSW title contest on Friday, among them many former national champions and a number of world-beaters, in the popular one design class that's been around since the 1960s and according to Queenslander Matt Chew "has always been cool".
Representing The RPAYC Pitwater Fleet is: Seawings, Tom Brewer; Fliration, Matt Crawford; Whisper II, Bruce Ferguson; 2107 Racing, Jason Antil; Pam, Will Dargaville; Whisper, Malcolm Parker.
For Gen XY skipper Chew and his crew Ashley Deeks, Ben Vercoe and Brian Donovan, the NSW title marks the start of their run towards a home world championship at the Royal Queensland Yacht Squadron in October.
"We have kept training pretty low key and now we are doing the NSW event and then the Victorian championship. We are ramping up and planning to peak at the end. We'll see; we are trying to time our run to the worlds," Chew said.
On the cool factor he reckons: "Etchells have always been cool. I sail all the foiling boats but there's something about coming back to an Etchells that levels the field. In other classes it's about athleticism but with Etchells it's who picks the wind. It's very pure and simple; I think that's why a lot of pro sailors come back to the class, to measure themselves against their peers."
Racing Rules of Sailing – Changes effective 1 January 2018
World Sailing has made important changes to the Racing Rules of Sailing, effective from 1 January 2018. These changes were made following feedback from MNAs and race officials and affect the following rules:
• Definition Party
• Rules 63.1 and 64.4
There is also a new rule 63.9.
The summary of changes can be found on the Australian Sailing website HERE.
Takahashi takes out 2018 Nespresso Youth International Match Racing Cup
Tuesday 13th February 2018 – Royal New Zealand Yacht Squadron
Leonard Takahashi and his RNZYS Performance Programme Pacific Racing Team crew of Josh Wijohn, Taylor Balogh, Ibuki Koizumi and George Lee Rush have taken out the 2018 Nespresso Youth International Match Racing Cup at the Royal New Zealand Yacht Squadron.
Skippers were greeted by another rainy Auckland day this morning, which was fitting seeing as the majority of the regatta was sailed in wet weather, but this didn't stop our four keen semi-finalists from taking to the water.
James Wilson from the RNZYS Youth Training Programme was the top seed heading into the finals so it was his choice on who he would sail against in the Semi-Finals. Wilson selected Finn Tapper from the Cruising Yacht Club of Australia, which left Takahashi taking on Jordan Stevenson (RNZYS YTP) in the other semi-final.
Wilson, who came back from being two-nil down in the quarterfinals, found himself in another ding dong battle - this time against Tapper - that saw some extremely tight racing and provided another nervous final that came right down the final match. With the scores tied two each, it was all on in the final match but the local boy Wilson managed to find his form and keep his composure to win and book himself a spot in the grand finale. "I was pretty worried aye, it was almost a repeat of our quarterfinal. We were doing well in the pre-starts but we kept making mistakes up the course. In the fourth match we could have really finished it off but we didn't, then the fifth race was really close, there were heaps of penalties and flags flying up and down but we were stoked to get over the line and make the final."
Make Your Mark Down Under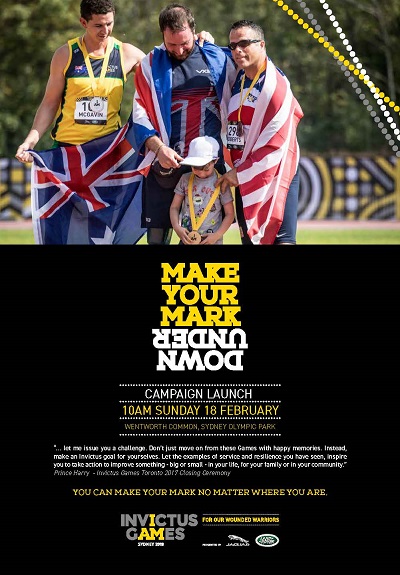 Make Your Mark Down Under is ready to launch. To ensure success we need your help!
When: Sunday 18 February 10:00 to 14:00
Where: Wentworth Common, Sydney Olympic Park

Join Invictus Games Sydney 2018 ambassador Curtis McGrath as we celebrate the launch of Make Your Mark Down Under. Make Your Mark Down Under is our answer to Prince Harry's call to action.

The Make Your Mark Down Under launch is a family oriented fun day featuring a simple activity to encourage people to be active and connect with their support network "walk and talk". The event also celebrates Australia's tradition of volunteering and community involvement. This is a chance for our partners and their family and friends to come together for a fun day out. Our Walk and Talk will cover a 3km parklands route. It can be as easy or hard as you want to make it and it's accessible to all ages and abilities.

Through support from our partners there'll be activities to keep the kids entertained with face painting, balloon artists, storytelling and lots of space for them to run around. There's barista coffee and a sausage sizzle on site or bring your own picnic. Our media friends are coming along to help us kickstart the campaign and all our 'walk and talkers' will receive a launch souvenir. There is a role for everyone in Invictus Games Sydney 2018 so join us on 18 February to Make Your Mark Down Under.

Please help us spread the word and encourage your staff, family and friends to join us on the day by registering at www.invictusgames2018.org/mym
Wilson, Takahashi, Tapper and Stevenson book semi-final tickets on Day Three of the Nespresso Youth International Match Racing Cup
Monday 12th February 2018 – Royal New Zealand Yacht Squadron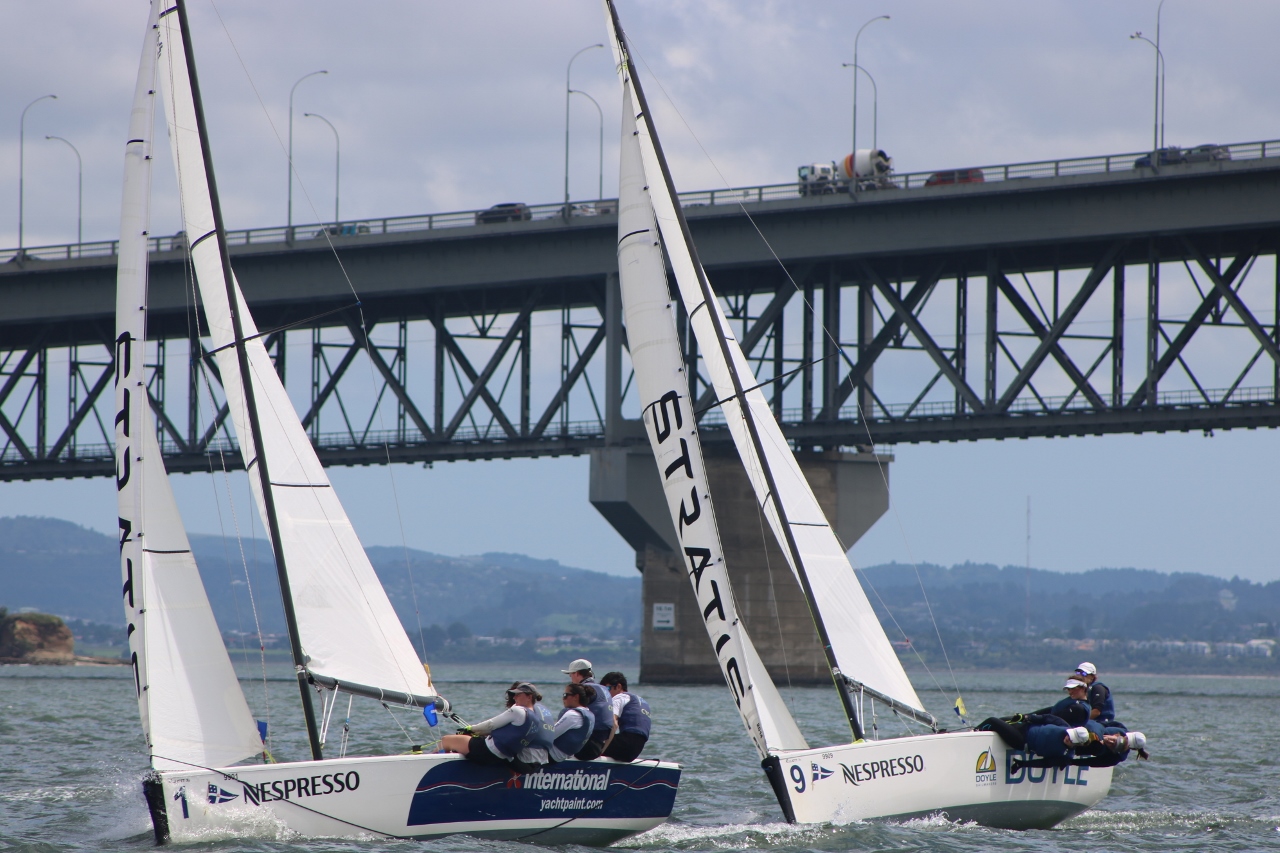 The semi-finalists were decided on Day three of the Nespresso Youth International Match Racing Cup with James Wilson (RNZYS Youth Training Programme), Leonard Takahashi (RNZYS Performance Programme Pacific Racing Team), Finn Tapper (Cruising Yacht Club of Australia) and Jordan Stevenson (RNZYS YTP) - all booking their tickets to semi-final showdowns on Tuesday.
Crews were met with clear skies and 10-15 knot winds when they arrived on the water to complete the remaining round robin races, a nice reprieve from the severely wet and windy first two days of racing. The biggest winner of the round robin racing this morning was Stevenson who won his remaining three races to sneak into the top 8, as well as Costanzo and Farquharson who both won races and a spot in the finals.
Trent Turigliatto from the Long Beach Yacht Club, John Lynch from the Darwin Sailing Club, and Tom Picot from Cercle Nautique Caledonien were all very unlucky not to make it into the finals after all three teams finished the round robin with six wins – one win away from potentially clinching a spot to race in the afternoon session.
Once round robin racing was completed our eight quarterfinalists were decided and the business end of proceedings could begin. The matchups included; Wilson (RNZYS YTP) v Farquharson (Royal Prince Alfred Yacht Club), Tapper (CYCA) v Costanzo (RPAYC), Takahashi (RNZYS PP) v Dair (Kerikei Cruising Club) and Egnot-Johnson (RNZYS PP) v Stevenson (RNZYS YTP).
Wilson wields best record after day two of the Nespresso Youth International Match Racing Cup
NESPRESSO Youth International Match Racing Cup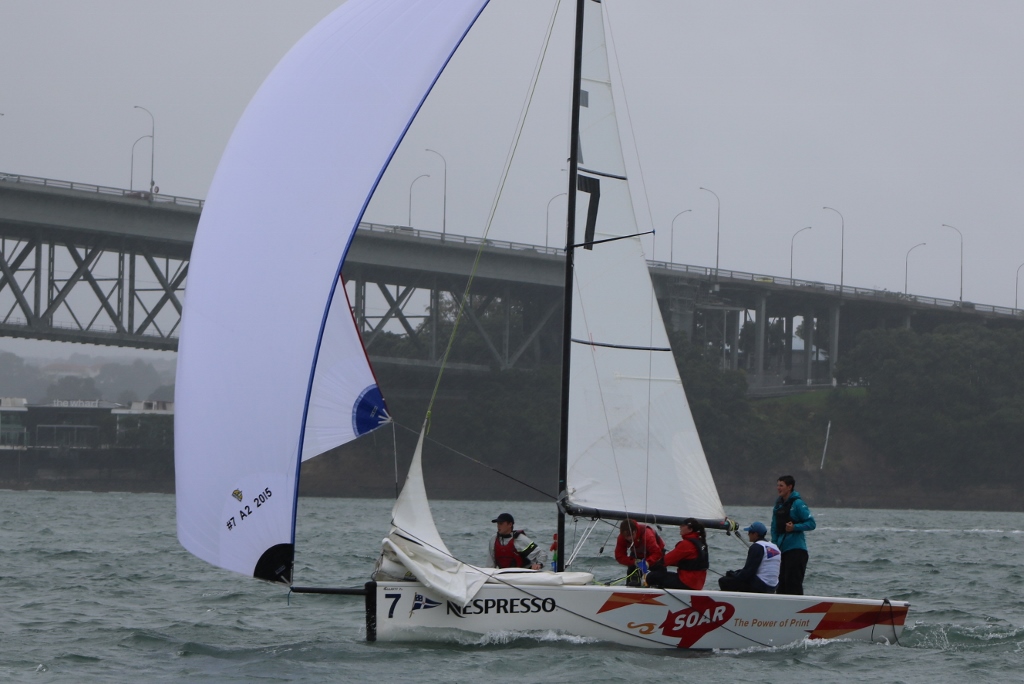 Sunday 11th February 2018 – Royal New Zealand Yacht Squadron
James Wilson from the RNZYS Youth Training Programme is wielding the best record after two days of Round Robin racing at the 2018 Nespresso Youth International Match Racing Cup.
It was an even wetter day than yesterday on the water outside the RNZYS with limited visibility and gusty winds between 15-25 knots but this didn't affect the RNZYS YTP skipper. Wilson, who set the pace on day one, continued where he left off by notching up six more wins and finishing the day with an impressive 12-2 scorecard to complete his round robin campaign, handing him the top seed heading into the finals.
Finn Tapper from the Cruising Yacht Club of Australia is the next best skipper in the fleet after claiming four more wins today to finish the round robin with an 11-3 scorecard. It has been an impressive performance by Tapper in trying conditions, and he and his crew have placed themselves nicely before the business end of the regatta.
RNZYS Performance Programme skipper Nick Egnot-Johnson picked up where he left off on Saturday by claiming three more race wins t
Weather Links
Check the latest conditions: