1 week to go to 2018 Seldén for Sailing Ice Breaker Series
The Royal Prince Alfred Yacht Club is very excited to be welcoming
Seldén for Sailing
on board as naming sponsor for the 2018 Ice Breaker Series. NoR and Entry for this year's Seldén for Sailing Ice Breaker Series is now available on the Club's website and can be accessed from this
LINK
.
Series Entries close next Wednesday 16th May at 17:00, so be sure to enter soon to avoid disappointment.
Racing takes place on the third Sunday of each Winter month. The race dates are as follows:
Round 1 - May 20.
Round 2 - June 17.
Round 3 - July 22.
Round 4 - August 19.
The Seldén for Sailing Ice Breaker Series is the Royal Prince Alfred Yacht Club's Winter Dinghy Sailing Series. First warning signal is at 09:30 to capitalise on the Winter morning breezes. All done and dusted by 12:30 and finished off with a BBQ lunch and presentation and there's still time to get those assignments completed before school, work or uni on Monday!
The 2018 Seldén for Sailing Ice Breaker Series is a great event for beginner and seasoned competitors alike, with the Club Coach on hand and available to offer advice and guidance for all competitors. Be sure to enter the full series before Wednesday 16 May so as not to miss out!
SI's to follow shortly. Anyone available to volunteer, please let our Volunteers Coordinator, Chris Attwood know, by completing this
ONLINE FORM.
Club Marine Pittwater Sail Expo Weekend - the life of Pittwater
The Royal Prince Alfred Yacht Club hosted the seventh annual Club Marine Pittwater Sail Expo on Saturday 28th and Sunday 29th April 2018, which saw over 3000 people in attendance from across Sydney and regional NSW attend.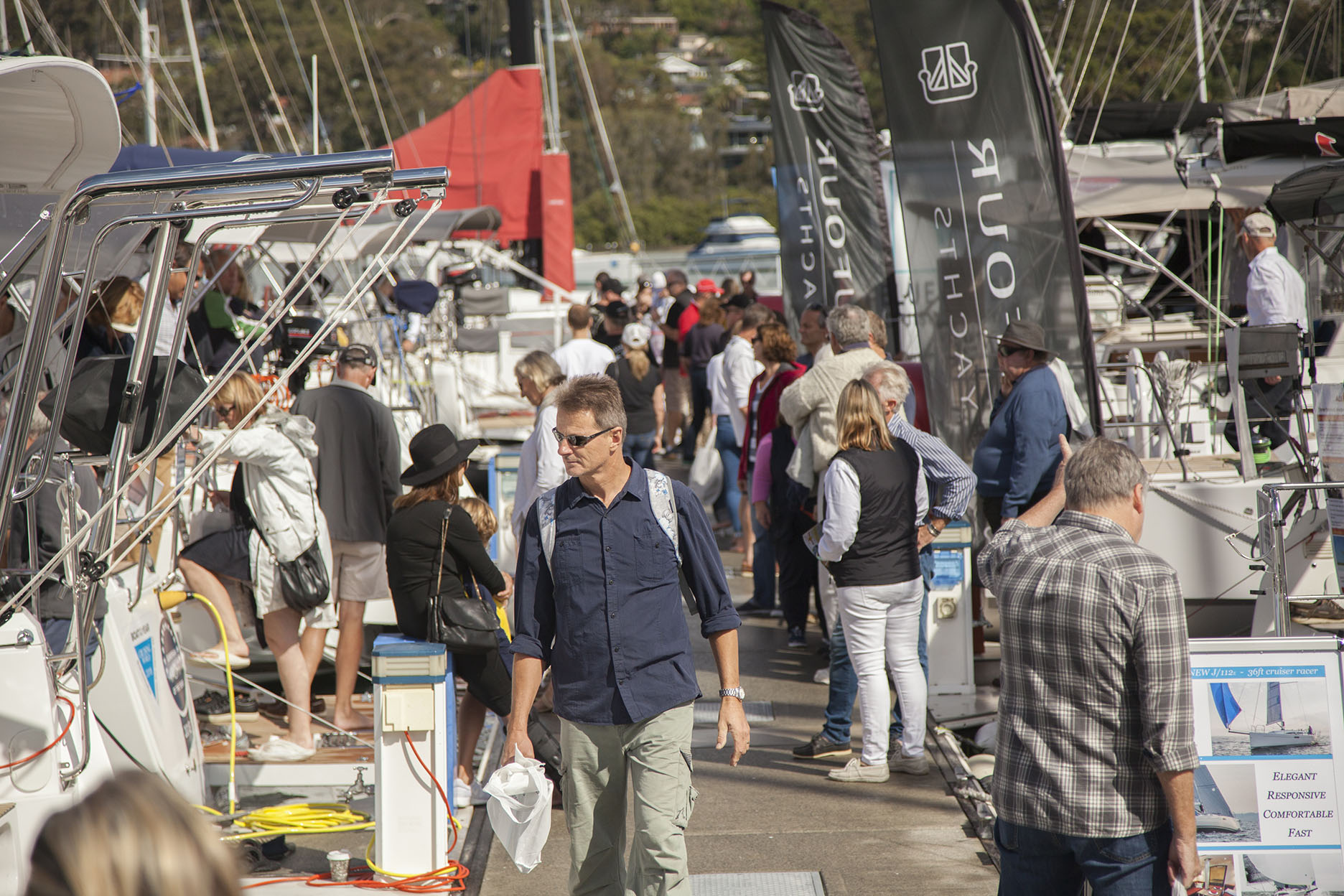 The Club Marine Pittwater Sail Expo is a free event which opens the doors of the RPAYC for the public to see and meet with marine industry professionals, featuring 42 exhibitors both on and off water showcasing an extensive array of marine products, yachts, dinghies and services for the experienced and the casual sailor or those that just wanted to enjoy the water with the latest marine toys.
The family friendly event welcomed visitors to view The Royal Prince Alfred Yacht Club first hand, with yachts and dinghies on display, information about learn to sail, development training, educational courses, racing, cruising, kid's programs and club membership. It was a fantastic weekend with the weather surprising everyone with near perfect autumn conditions just at the right time to enjoy the day and to see how easy it is to get into sailing at the RPAYC.
During the day the Club's BBQ was in action non-stop along with the bistro open for breakfast and lunch.
With seminars, live entertainment, dock walks to see the latest yacht designs available, marquees and the odd wine tasting, there was something for all. The option to try sailing enabled families young and older to test sail the growing two handed dinghy market with an RS200, RS Quest and 29er on hand. These growing classes are perfect for those sailors looking for a boat to sail two up, be it with their families or youth graduating from single handed classes.
RPAYC Commodore, Michael Lockley said, "The expo is a community event and it was great to see so many people visit the Club to see firsthand, witness our magnificent waterway and learn more about all aspects of sailing available on Pittwater".
If you were unable to make this year's Club Marine Pittwater Sail Expo save next year's date in your diaries 27-28 April, 2019.
See the exhibitors and photographs from the weekend here: www.pittwatersailexpo.com.au
A productive meeting was had on Saturday with racing boat owners to discuss the new program for 2018/2019.
The New Race Program key principles are:
Only one Club race will be held on any given day during the summer and winter season, this will pull the club fleets together and allow;

More available crew, race management volunteers, options to try a Series you may not have been able to do before due to conflicting events on any given race day.

Join in with RMYC and Other Pittwater/ Local Clubs for "Combined Pittwater Events" including inshore and offshore races.

The "Commodores Club" (CC ) will be a combination of races from the existing program, including inshore, offshore, passage and or special events with an overall Club Champion named.

A draft copy of the program can be downloaded here. (minor updates are been made to a summary of the weekend program). Subject to change
Any comments are requested to be submitted to the Sailing Office at sailing@rpayc.com.au
Peter Loft Marathon Race 2018 - This Sunday!
PETER LOFT MARATHON RACE
BYRA's annual Peter Loft Marathon Race takes place annually on the first Sunday in May. This is a great event and sailors from all clubs are welcome. All race fees benefit the Peter Loft Foundation.
One of the most popular aspects of the race is the Le Mans start. Competitors line up on the beach beside the clubhouse and, on the dropping of the BYRA flag, sprint to their boats to begin. Clearly this gives the less-old sailors an advantage, but history shows that experience soon wins out.
After the race, please join us for prize-giving and a barbeque dinner on the BYRA deck. Refreshments will also be available.
Full details are available here.
Entry costs $10 for Juniors (aged under 18) and $15 for Seniors (18 and over). Purchase Online Now
Lighting of the Fire! May 25 - Not to be missed
Gwen Slade Etchells Regatta crowns a new winner
The Gwen Slade Ladies' Etchells Regatta was created by Life Member and world-class sailor, William Russell Slade in honour of his late wife, Gwen Slade.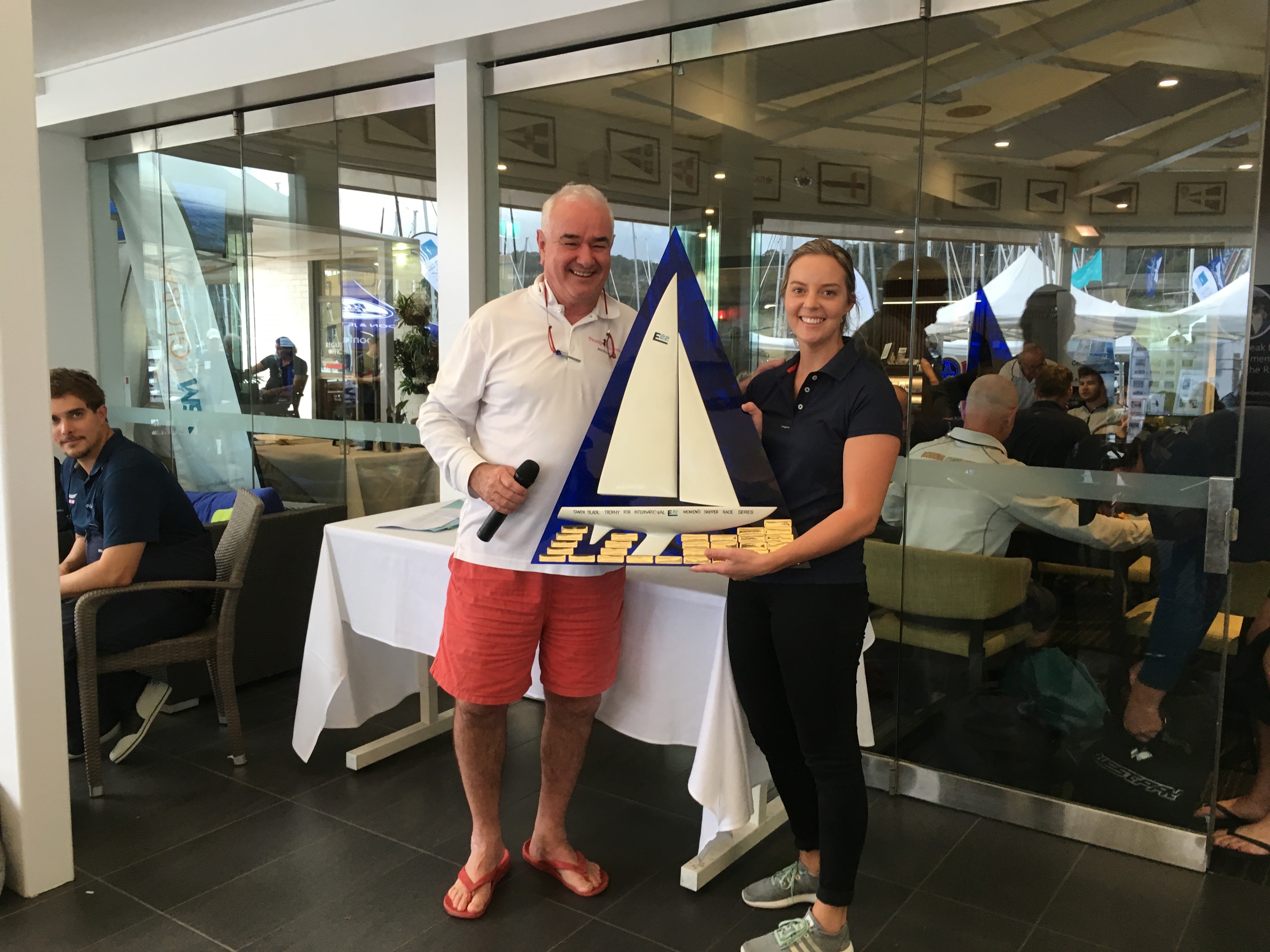 Russell Slade was a prominent face of sailing in the 1960s, having competed in the Olympics and being a strong competitor in 16ft Skiffs and 5.5m class boats he was also the first person to build a Fibreglass yacht in Australia, Janzoon II.
Russell, as described by his son, Paul Slade, was a very passionate man and envision that sailing is a family involved sport based on fun with winning not being the major objective. Russell's love for One design racing lead to the choice of boat and development of the Gwen Slade Regatta. The Etchell was chosen as it was a growing class and the simplicity factor would help promote the inclusion of advanced and beginner sailors. With a little media help from the Packers, Russell was able to launch the first Gwen Slade Ladies Regatta in 1981.
Today, the regatta is still going strong with the RPAYC hosting it every year in conjunction with the Pittwater Etchells association.
Flirtation skippered by Lucy Shephard took the win on the weekend with an impressive score card.
Series Results [OD] for Etchells up to Race 3

| | | | | | | | | |
| --- | --- | --- | --- | --- | --- | --- | --- | --- |
| Place | Sail No | Boat Name | Skipper | From | Sers Score | Race 3 | Race 2 | Race 1 |
| 1 | AUS1026 | FLIRTATION | Lucy Shephard | RPAYC | 5.0 | 1.0 | 1.0 | 3.0 |
| 2 | AUS1119 | NORTHERN HAVOC | Alex Murray | RSYS | 6.0 | 2.0 | 3.0 | 1.0 |
| 3 | AUS1213 | 2107 RACING | Annie Taylor | RPAYC | 8.0 | 4.0 | 2.0 | 2.0 |
| 4 | AUS875 | WHISPER | Evelyn Foster | RPAYC | 13.0 | 3.0 | 5.0 | 5.0 |
| 5 | AUS768 | PAM | Sarah Parker | RPAYC | 13.0 | 5.0 | 4.0 | 4.0 |
Travelling North on Still Dangerous with Ivor Burgess
TRAVELLING NORTH ON STILL DANGEROUS
WITH IVOR BURGESS - BENETEAU OCEANIS 45
Ivor Burgess, quite simply put, is an inspiration to every sailor. He started sailing at 50 and now at 78 he and his crew are about to take Still Dangerous, his Beneteau Oceanis 45, on their seventh trip to the Whitsundays for both Hamilton Island and Airlie Beach Race Weeks.
STILL DANGEROUS AT ANY AGE
Ivor is the elder statesman on the crew with the youngest being a sprightly 70. A keen rugby and squash player in his younger days, Ivor was searching for a sport he could participate in as he got older.
Ivor discovered sailing when a good friend took him along on a sailing trip to Tonga. He's been totally hooked ever since.
"I went sailing a few times and I thought, 'This is a great thing to do. It's something that you could do at any age,' and, of course, now I'm 78 and I'm still sailing and still enjoying it."
But it's not just the wind and water that Ivor loves – it's the amazing friendships he has forged since becoming part of the sailing community.
"I really enjoy the sailing lifestyle. It's a great thing because most of the guys that are on our boat are retired and we're all together and it's not just the sailing, it's the social life that goes with it as well. We have team dinners and Christmas dinners. It's a really nice, matey thing to do."
B&G announces sponsorship deal with The Royal Prince Alfred Yacht Club

The Royal Prince Alfred Yacht Club is delighted to announce a three-year sponsorship with leading manufacturer of sailing electronics including chartplotters, instruments and autopilots around the world, B&G.
The Club welcomes B&G as a new sponsor of the Elliott 7 program. Through B&G's three year sponsorship of an Elliott 7, the Club will be upgrading its committee vessels with the latest navigation/wind instruments and software on the market, giving the Race Committee the same excellent equipment that many racing yachts use today.

Director of Sales Australia, Chris Radford from B&G, a keen racer and who's kids are also Optimist sailors saw that Clubs Australia wide still use the old cassette tape and compass to take wind directions whilst yachts have the use of highly precise hardware and software. The Club is proud to be in partnership with B&G and looks forward to the new systems to come.
Chris Raddford, Australian Sales Director B&G, said: "We are proud to be both associated and sponsoring the Club's Elliott 7 Program and providing the Club with the latest equipment for their Race Management Vessels".
"The whole team here at B&G has really got behind the RPAYC and their Elliott 7 Class program, as a major pathway for youth to remain in the sport of sailing and develop their sailing and team work skills."
"With many yachts having the latest wind instrumentation is time that the guys running the racing have the same".
B&G – Official supplier to Australian Sailing Team and now RPAYC.

Find the right system for you here...
For further information contact Brendan Rourke at RPAYC on 02 99983700. Email: marketing@rpayc.com.au
Try Sailing, Two Handed Dinghy Day - Club Marine Pittwater Sail Expo
2018 Sail Expo Centreboard Trial Sailing Day
Sunday 29th April 2018
10:00 – 14:00
Come down to the Club to test sail the exciting double handed RS200 a great boat that caters for a wide weight range a range of different double handed Classes for free!
There'll be a Club coach and RIB on water to help and answer any questions you might have.
Boats available will be the RS Quest, Aero, Feva and 200 in addition to the 29er.
Join Multihull Central at the Pittwater Sail Expo
Join us this weekend for an exclusive look at the new Seawind 1190 Sport at the Pittwater Sail Expo before she makes her official Australian debut at the Sanctuary Cove International Boat Show in May.
The latest development from the Seawind factory, the Seawind 1190 Sport combines cutting edge technology with all the comforts of its sister the Seawind 1160 Lite. Light, fast, with dagger boards and rudders for upwind performance and shallow draft, square top mainsail and carbon used throughout. This is a boat not to be missed.
Pittwater Sail Expo:
28-29 April 2018
The Royal Prince Alfred Yacht Club 16 Mitala St, Newport.
Free entry.
Weather Links
Check the latest conditions: