Don't miss this months Portuguese Beach Picnic & Rally - Sunday 30 July
Good Day 2 for the RPAYC Girls in the USA
Day Two Report from the Governors Cup Regatta in Newport Beach California.

Today saw the first round robin and 2 flights of the second round robin completed.

The RPAYC team of Clare Costanzo, Jessica Angus, Emma May and Hannah Lanz improved on their day 1 performance winning 4 races today and losing 2. Not only are they the only team with a female skipper they are also the only all girl team which is fantastic.

The conditions were very much similar to yesterday with a south westerly breeze that ranged from 3 to 8 knots. The Gov Cup 22 keelboats are designed for these predominantly light conditions and power up with as little as 5 knots.

The Girls managed to continue to improve on their prestarts, and upwind speed in the upper wind ranges (for the day). Great mark roundings and downwind speed, also helped get the team out of some sticky situations.

"It was great leaving the water today with a few more points on the board. We keep improving our comms (communication) onboard each race. We have climbed another position on the leaderboard, so it is now our focus to finish the round robin strong and get a spot in the semis and take it from there!" said a determined Costanzo.

Tonight is Burger night at the Balboa Yacht Club, as we are treated with another delicious meal.

To keep up to date with results please follow this link http://www.matchracingresults.com/2017/governors-cup/
Tom Spithill
Club Coach
Tight racing on day 1 of the Governors Cup
Tight racing on day 1 of racing here at the Governors Cup here in Newport Beach California.

Costanzo and her crew of Jess Angus, Emma May and Hannah Lanz started the day off well with two wins, firstly against the British team and secondly against a local American team.

The next few races saw some tough match ups and some lessons learnt the hard way.
The team realised that as well as having a plan A, they need to have a plan B and sometimes a plan C! Always trying to think of what possible maneuver that your competitor can do, (trying to predict the future) can help you already have your counter move prepared.

The team had a tight last race if the day against Pindar from the Cambridge University Cruising Club. An early Prestart penalty haunted Costanzo around the course. On the last downwind Costanzo rounded in the lead and elected to not hoist the spinnaker and go and attack Pindar. There where numerous gybes downwind as Costanzo tried to get the upper hand on Pindar. Ultimately the RPAYC girls missed the one shot at undertaking the penalty, giving Pindar the race. Another lesson for the memory bank!

There are a lot of things that team RPAYC are doing well. Our downwind speed and boat handling has seen us make gains on all our competitors.

7 flights were completed today, so that just leaves another 4 flights to compete the round robin. At this stage we are sitting in equal 7th with points very close.

Tonight it is Taco Tuesday, so we will enjoy a nice healthy dinner, and then have a good debrief.

Live results can be followed here: http://www.matchracingresults.com/2017/governors-cup/

Tom Spithill

Club Coach
The Battle for Fastnet Line Honors
Finnish Whitbread Round the World Race legend Ludde Ingvall returns to the Rolex Fastnet in hopes of besting his own record.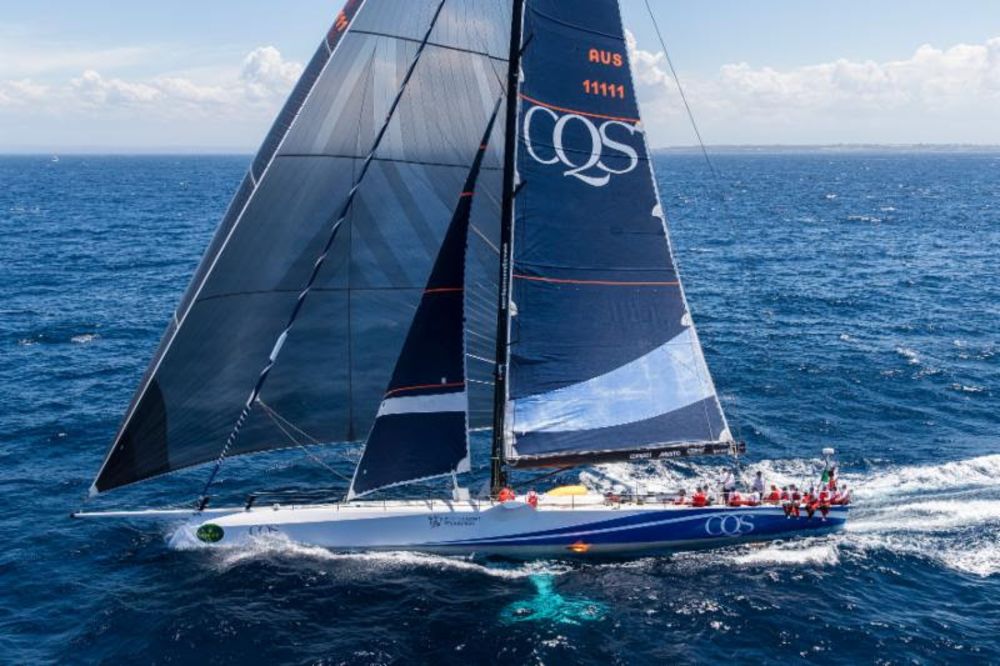 Credit: Andrea Francolini
By RORC Yesterday at 12:28am

RPAYC Club Member, Ludde Ingvall still holds the double record set 22 years ago in the Rolex Fastnet Race, taking both line honours and handicap victory. He's back this year with the 100ft DSS foiling CQS.

Finnish Whitbread Round the World Race legend Ludde Ingvall returns having previously put in one of the most exceptional performances in the 92 year history of the Royal Ocean Racing Club's flagship event.
Firstly in 1985, the same year Simon le Bon's Drum famously capsized, Ingvall raced on the Whitbread maxi Atlantic Privateer when it won her class. But the race which has gone down in history was a decade later, when he skippered Nicorette, the former 1989-90 Whitbread Round the World Race maxi Charles Jourdan but much modified, to line honours, finishing a massive 24 hours ahead of the next boat. But significantly that year Nicorette not only claimed line honours but victory on handicap as well.
"We won it on CH*, we won it on IMS and we got line honours," Ingvall recalls proudly. "We walked away with 16 trophies, which was amazing. I still remember the speech at the prize giving where they said 'the Vikings have been here before and now they have come back to steal our silver!'" That race, 22 years ago, was the last occasion someone won the Rolex Fastnet Race line honours and handicap 'double'.
This time Sydney-based Ingvall is back with another weapon, and again one which is heavily modified. CQS was originally built in 2004 as the 90ft canting keel Simonis Voogd-design Nicorette aboard which Ingvall claimed line honours in that year's Rolex Sydney Hobart. During 2016, this boat underwent major surgery extending her to 100ft by fitting a new bow. Small wings were added at deck level to widen her shroud base to accept a larger, more powerful rig and she was also fitted with retracting lateral Dynamic Stability Systems foils to provide lift to leeward.
Since competing in the Rolex Sydney Hobart race, CQS has arrived in Europe and, weekend before last, set a new course record in Sweden's AF Offshore Race (Round Gotland), breaking the existing record which Ingvall had established on his previous Nicorette.
MC38 Winter Series act 3 to Ginger
Media Release 16 July 2017
Event: MC38 Winter Series Act 3, July 15-16, 2017 on Pittwater hosted by the Royal Prince Alfred Yacht Club

MC38 Winter Series act 3 to Ginger
In the absence of their divine leader Leslie Green, team Ginger consolidated and extended their MC38 Winter Series lead in another day of light winds on Sunday July 16, 2017, to clinch the third stage win by five points.
Marcus Blackmore's Hooligan switched gears and guest tactician Seve Jarvin made savvy calls in the two races in patchy WSW breeze to finish North Sails boat of the day and second overall, just a point in front of their RPAYC clubmates on John Bacon's Dark Star.
Back at the Royal Prince Alfred Yacht Club after racing, Ginger's helmsman Julian Plante said, "We had a good calm bunch and had the confidence in what we were doing to come back yesterday, and today. Both races today we didn't get around the first mark in great shape but we knew our turn would come and we stayed true to the plan.
"Light airs have been a bit of an Achilles heel and we've been working on it this winter. Today we found better speed and we had the confidence to play the percentages."
On Colin Beashel's vast knowledge of the Pittwater waterway and its nuances, particularly in winter, Plante added laconically, "He knows his way around out there. He's such a calm guy but decisive, and makes the right moves. You forget what he's done sometimes, he's so calm," Plante added, referring to Beashel's credentialed sailing past including six Olympic Games, a bronze medal and one of the winning America's Cup crew on Australia II in 1983.
Ice Breaker Series Round three deliveries challenging and variable breezes
The third instalment of the 2017 Ice Breaker series delivered challenging and variable light breezes and a cloudless blue sky and sunshine on another stunning Pittwater Sunday. There was tight racing in all laser classes, particularly the 4.7's with nett points being equal between Thomas Skinner and Archie Gargett for the overall point score.
The RPAYC's Jono Tuite performed well, winning both the first and second races of the day in the Optimist open class. Other notable performances included Alfred's sailor Nathan Bryant winning two of three races in the Laser Radial Class and Hunters Hill Sailing Club's Isaac Freeman putting in a stellar performance winning all 3 Intermediate Optimist races.
This year's Ice Breaker is the first time a foiling class has participated in the series with two boats visiting from Woollahra Sailing Club. With breeze well below the 8 knots required for foiling for most of the day's racing, the competitors put to use the lessons learnt from their time at Sail Brisbane earlier in July where similar conditions were experienced. "The conditions were light but the Waszp is great fun, I had it flying earlier in the day and it's exhilarating! Especially on a sunny day on Pittwater!" said Tom Brewer, the skipper of Waszp Jeff Vader.
The Club would like to thank all competitors and volunteers for their involvement in another successful Ice Breaker round. The 4th and final Ice Breaker round for 2017 is scheduled for Sunday the 20th of August. The final results will be announced at the presentation which will be held after racing in the main Clubhouse. For casual entry and results please see this link, http://www.rpayc.com.au/sailing/centreboard-racing/cb-regattas.

Youth Development Squad takes flight for the Governors Cup & World Sailing Youth Match Racing Championships
Clare Costanzo and her crew of Emma May, Jess Angus and Hannah Lanz will be representing the RPAYC and Australia as they get set to compete in both the Governors Cup and the World Sailing Youth Match Racing Worlds. Both events are being hosted by the Balboa Yacht Club in Newport Beach California, with the Governors cup running 17 - 22 July and the World Sailing Youth Match Racing Worlds 30th July to 5th of August.


Costanzo and her team have been preparing for both events since April this year when they received entry's for both of these prestigious events. In addition to participating in the clubs world renowned Youth Development Program, Clare and her team have been out most mornings at the brisk hour of 0600hrs training in the clubs Elliott 7 keelboats. Joining Clare on a number of these early mornings is William Dargaville, who along with his crew of Josh Dawson, Sarah Parker and James Farquharson won the 2016 Youth Match Racing Worlds in New Caledonia. "It's been great having seasoned sailors such as Will pushing us hard in training. The intensity of the training is really lifted when you have another boat to battle it out against"
"We are looking forward to getting out on the water and the chance to compete against the worlds best! We are very thankful to the members of the RPAYC for their continued support" said an elated Costanzo
Today (Monday) the team has a practise day as they get used to the Governors Cup 22 keelboats, purpose built and designed by Allan Andrews.
Racing will commence Tuesday. To stay up to date with live results http://www.matchracingresults.com/2017/governors-cup/

Our friends (yet fierce competitors) from RFBYC and CYCA will also fly the Australian flag at the Governors Cup.

The legendary Don and Doris Stoughton are hosting the the Alfred's team. The Stoughtons have had RPAYC teams stay at their home for over 25 years, and are widely regarded as one of the (if not the) best hosts ever!
Each team also gets assigned a local host/helper. This is usually a young female, however since we have an all girls team we have been assigned a young gentleman called Jeff Petersen, who recently won the Rose Cup and knows the boats well.

Stay tuned for more updates from sunny California.
Flaky first day for MC38s in Winter Series Act 3
Media Release 15 July 2017
Event: MC38 Winter Regatta Act 3, July 15-16, 2017 on Pittwater hosted by the Royal Prince Alfred Yacht Club

Flaky first day for MC38s in Winter Series Act 3

For aflakyPittwater day with barely enough wind to pull off the schedule, there was plenty going on in the MC38 Winter Series act 3.
Credit: Bob Fowler
Half the fleet sailed an incorrect course in the opening race in light sou'west winds and two of those ran out of time to be scored. There were a number of start OCSs and umpire flags raised, and early series leader, Chris Way's Easy Tiger, began famously with two wins on the trot then slipped to fourth overall due to spinnaker halyard issues and a resulting race three retirement.
Leslie Green's Ginger, helmed by Julian Plante, put in a consistent effort - three thirds and a second - to be two points in front of John Bacon's Dark Star at the end of racing in light winter northerlies on Saturday afternoon.
Colin Beashel, Ginger's technician, said the only printable description of their outing is "interesting". "Someone shook the pointscore up! We thought we'd won that first race but found out we'd done an extra lap; then we were OCS in races two and three but managed to recover.
"Pittwater in winter is certainly an interesting playground though it wasn't raining or too cold," the multiple Olympic sailor added, wanting to be upbeat.
Offshore competitors season meeting, 22 July
Competitors looking to know more about home they can gain experience in offshore events and the schedule of events for the 2017/18 season are invited to attend a meeting on Saturday 22 July, 0930-1030hrs in the Admiral Cup room.
The Agenda includes:
BWPS Offshore program discussion
Gauge interest in the Club Marine Pittwater to Paradise Regatta.
Is there support for inclusion of a shorthanded or Womens offshore categories in the BWPS.
SOPS / BB program discussion
Offshore regatta racing
Gauge support for introduction of Virtual marks (e.g. Long Reef & Terrigal)
Inclusion of crew lists for club events.
Ideas/feedback to reduce barriers to entry for Offshore events
Eg: Is there Interest/Demand for bulk specials on SSSC. What other training needs are required/wanted.
Vale John Lincoln (Jack) Gale
Dear Members,
It is with very great sadness that we advise members that Jack Gale passed away peacefully at 12.15pm on Friday 8 July.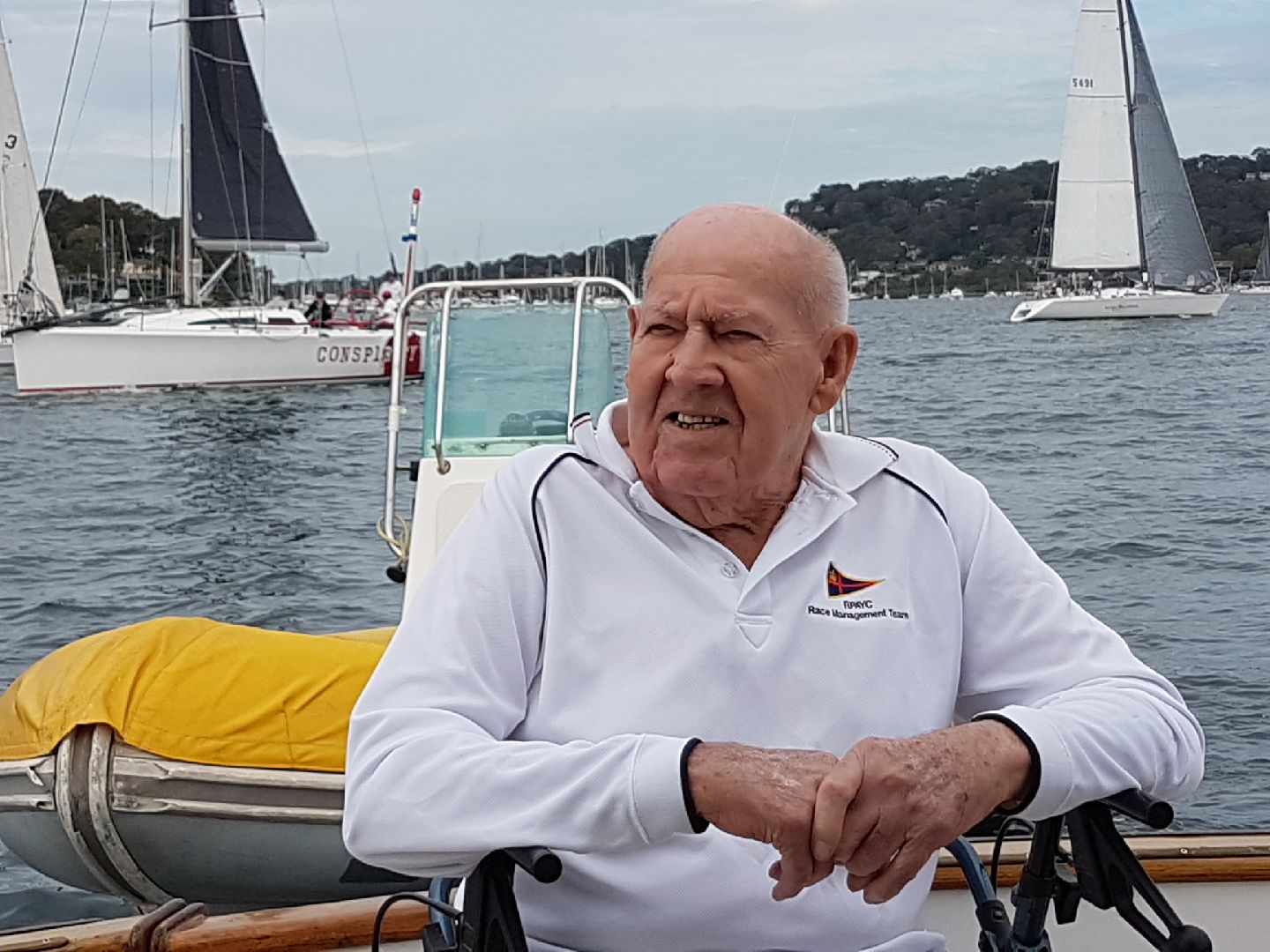 Jake Gale back on board Alfred's 1 for the 2017 Old Timers Race
It is exactly 2 years to the day since the passing of his beloved wife Joan and they will now be back in each other's company forever.
Our thoughts are naturally with Jack's sons Geoff & Robbie at this time and their very close and loving family which they have welcomed so many of us to be a part of.
Jack was a wonderful character who was loved by so many of the greater Alfred's family and while we will mourn his passing, we will celebrate a wonderful and full life and remember the great contributions he made to the Royal Prince Alfred Yacht Club. The Club cannot expect to ever have in the future, such a loyal, knowledgeable and conscientious servant and Life member.
The Club and all its members, both past and present are blessed that Jack chose to dedicate his life to the Club and its members. Whilst we will all miss him we will remember sharing his generosity of spirit, his knowledge and his wicked sense of humour.
Jack's farewell will be postponed to allow travelling family to return and join in the celebration of his life. Details will be made available when finalised.