Another day of strong winds for the final day of Sail Melbourne International (29 November to 3 December 2017) meant an early finish to the event with the last day of Invited class racing called off. Olympic classes also finished one day early and wrapped up on Saturday, 2 December with medal winners decided after a three-day race series (29 Nov to 1 December 2017).
"This has been a very unusual weather pattern and we had 20 to 25 knots all night. The forecast is that it will stay like that all day as well. Even if some of the classes could cope with that wind speed, what they could not cope with is the sea state we have out there. In the channel we have two to three metre waves," Principal Race Officer (PRO) Mark Taylor explained the situation.
It was a challenging week for the race committee with a heavy weather front crossing Melbourne and Victoria, but with the Organising Committee's world class expertise the event wrapped up smoothly. "We have a good group of partner clubs that allow us to deliver the number of courses that we have and we have got great depth in race management skills, partially because of this event. Sail Melbourne has allowed us to put world's best practice back to our partner clubs and to also use the Sailing World Cup we hosted over the last few years to lift a lot of skills here." Mark Taylor said with Sail Melbourne International one of the fixtures on the World Sailing calendar.
"It is a shame that the weather hasn't been kind to us but it's been wonderful to have had such a good turn out at our event," Event Chairman Mark Klemens agreed. "This regatta has been going since 1992 and was coupled with the Sailing World Cup for the last few years and has continued on. Our host Royal Brighton Yacht Club has been amazing and we had a fantastic group of volunteers, who we could not have done without. It's one of the events, which is on the sailing calendar in Australia and around the world and I'm confident it will only grow stronger in the future. In regard to the weather, I'm sure weather like this weekend will never happen again," Klemens added laughing.
Sail Melbourne International is Australia's premier Olympic and Invited Classes Regatta, held annually in the waters of Port Phillip. This year the regatta was hosted by Royal Brighton Yacht Club with some of the world's best sailors from Australia and around the world attending.
360 competitors from ten countries raced at Sail Melbourne International 2017 with sailors coming from Australia, China, Malaysia, Hong Kong, Japan, USA, Bermuda, Sweden, New Zealand and Canada.
The stellar Melbourne line-up included the Australian Sailing Team and Australian Olympic medallists with Rio 2016 Olympic champion Tom Burton winning the Laser, Rio 2016 Olympic silver medallists Mat Belcher and Will Ryan the 470 and Rio 2016 silver medallists Jason Waterhouse and Lisa Darmanin winning the mixed-multihull Nacra17 on home waters.
See the Olympic class media release here for more details. Full news report here
Stories from the Coral Coast 'Lucky to find our friends'
Lucky to find our friends
"OK everyone up!" It was 4.30am. We had slept soundly tucked in behind Cape Upstart, but now it was time for a (hopefully) quick dash to Gloucester Passage. There was a window before a southerly blew in so we should be able to pick up a mooring by early afternoon.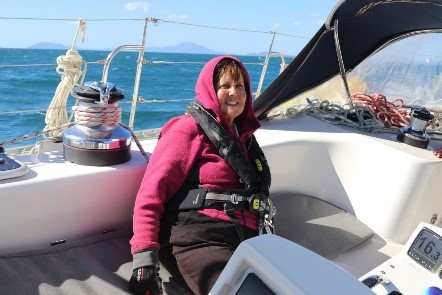 Mike, our son, stirred. He had joined us at Airlie Beach and sailed with us up to the rendezvous at Magnetic Island. After a couple of weeks on board he still was not sure why we seemed to have so many early starts. Ruth got the kettle brewing and I readied Barrenjoey Light to be up and away.
Shortly after 5am with the first of the nautical twilight peeking through we were a couple of hundred metres off The Bun, off towering Cape Upstart. All was good and the tea went down well.
"High Temp Alarm!!!" Mike sensed that was not good. Engine off. Main up and genoa unfurled. Light breeze from north. Hope there's not much current. Better get further off the rocks.
Less than an hour later a strong southerly hit us. It was much earlier than forecast. At times up to 35 knots. We put in two reefs and switched to the staysail, and tacked and tacked and tacked. Mike who has not spent a lot of time on the boat became more confident with every tack. It was much better than being seasick down below.
The wind died but the seas remained very lumpy and we crawled south through the ships off Abbott Point.
Time to contact our friends who were down at Gloucester Passage. "How y'all going?" "Well Gail, not so good." We told George and Gail on Southern Belle about our predicament. No, we preferred not to anchor when we arrived. Better to pick up a mooring if we could. "No worries", said George. He and John Carter (Happiness) picked out a mooring well away from other boats and said they would assist.
All through the afternoon we updated our ETA, finally realising we would not make it by night fall. Still the wind had picked up a bit and at 7.30 we were doing 7.5 knots in 25 knots and flat seas as we neared Gloucester Passage. "Where's Happiness?" John and Adrienne had their AIS on as the mooring was near them.
The road to Tokyo 2020 in full swing for Annie Wilmot & Natasha Bryant
Earlier this month we were honoured to receive the prestigious award of "Australian Female Sailors of the Year", sharing the spotlight with male sailor of the year and skipper of the 2017 America's Cup winning team Glen Ashby.
Credit: Andrea Francolini
The night was particularly special due to the establishment of the Australian Sailing Hall of Fame. The inaugural inductees included prominent Olympic and America's Cup winning sailors and coaches. It was truly an honor to be in a room filled with remarkable sailors that offer so much inspiration.

Receiving this award is particularly special to us as our mentor, friend, and Olympic Silver medalist Lisa Darmanin was the 2015 and 2016 Australian Female Sailor of the Year recipient. Over the past three years Lisa has mentored us in every aspect of balancing study, lifestyle and elite sports campaigning. She has played such an important role in inspiring and educating us towards achieving our goals.
One of the many things we enjoy about sailing is to be able to "give back" by mentoring younger sailors. Last week we were given the opportunity to speak at the NSW International Optimist Dinghy Association's "Opti Chicks" event at our home club; the Royal Prince Alfred Yacht Club. It was a great pleasure to share our failures, successes and our passion for sailing with the next generation of superstars!
December is an exciting month for us, competing in three domestic regattas throughout Australia. This week we head off to Melbourne for a national training camp followed by Sail Melbourne. Next, we head back to Sydney to compete in Sail Sydney. We will wrap up the year in Brisbane for the 49erFX Nationals. We are excited and ready for the month to come!
None of this would be possible without your ongoing support, and for that we would like to send our thanks. We are incredibly grateful for the opportunities you are providing, allowing us to get closer to reaching our goal.
To help us achieve our goal, we are reaching out and donations no matter how small are all gratefully received. Tax deductible donations can be made through the Australian Sports Foundation to either Tash or Annie
Follow and support the girls campaign on their official team website: http://bryantwilmotsailing.com/
Anniversary Harken International Championship to Japanese representative team
In a first for a Japanese representative team, rising match racing talent Leonard Takahashi and his crew claimed the 25th anniversary 2017 Harken International Youth Match Racing Championship convincingly and in unique style on finals day, Sunday November 26, 2017.
North-easterly sea breezes 14 gusting to 18 knots on Pittwater paired with bright spring sunshine capped off four days of similarly ideal conditions for the 12 competing teams, eight of them international.
Over the four-day knockout round robin format Takahashi's Pacific Racing Team and their training partners, James Wilson's Royal New Zealand Yacht Squadron team, proved round after round they had the pace, flair and match racing nous to deserve a finals berth.
The finals were definitely a balancing act for RNZYS coach Reuben Corbett who trains both teams, thereby requiring him to carefully divide his loyalty when two sets of protégés ended up squaring off.
Overseen by race officer Ted Anderson and his highly polished race management and umpire teams, Pacific Racing Team wrapped up the series 3:1, then added their own unique and ummeditated post-match celebration.
Finals aerial video plus commentary here
---
At the finish Takahashi was wrestled off the helm by Josh Wijohn and into the water. Then, in the excitement of their victory bowman Taylor Balogh repeated the celebration on Tim Snedden, leaving the Elliott 7 sailing downwind crew-less until the boat was recovered without incident.
"It's my first time helming at the Harken and my first big international win," Takahashi said back at The Royal Prince Alfred Yacht Club. "James is also in the Royal New Zealand youth program and today felt like we were training back in Auckland, except there were a lot more spectators and umpires. All of us are mates."
Similar to New Zealand's Peter Burling and Blair Tuke, who went from Rio 2016 gold medal performances to helping secure the 2017 America's Cup for Emirates Team New Zealand to the Volvo Ocean Race, the next tier of Kiwi youth match racers are shoring up the country's sailing future, if the talent on display at the 25th anniversary Harken International is anything to go by.
"We definitely all look up to Pete and Blair as sailors and great guys," Takahashi added. "They are a big inspiration and we want to be like them one day."
Though he lives in Auckland, should Takahashi move forward with his 49er skiff plans for Tokyo 2020 he is aiming to qualify for the host country, Japan.
Second place at the 2017 Harken International Youth Match Racing Championship went to James Wilson, Sam Barnett, Zac Merton and Bradley McLaughlin (RNZYS) and third was Finn Tapper's Cruising Yacht Club of Australia team of Tom and Jess Grimes, Harry West and Eric Sparkes.
First, second and third place take home match racing points plus a bundle of cash each, thanks to the event's naming rights sponsor of 20 years, Harken Australia.
"You guys have been written into the event's history books and Harken is proud to be a part of it," Harken Australia managing director Grant Pellew said at the trophy presentation. "There are a lot of top teams who came from this event but it's also about those youth teams who aren't ranked, but who get the chance to learn from the others, and maybe make it to the top one day."
The Harken's striking perpetual Rockin' Robin trophy was originally donated to the RPAYC by Robyn Wiltshire-Newman.
It is named after a boatload of young Australian men, including her husband and son plus other club members, who along with their boat Rockin' Robin were tragically lost at sea back in 1990 en route to Fiji.
Takahashi joins a long list of past Harken winners engraved on the trophy, some of whom have gone on to represent their countries and sailing at the highest levels.
Starting Monday November 27 the Musto International Youth Match Racing Regatta fires up out of the Cruising Yacht Club of Australia with even higher ranked youth skippers (under 23) among the starting line-up, including fourth in the open world rankings, Harry Price, the pre-regatta favourite.
Full results at http://www.intyouthmatchracingchampionship.com.au/results/live-results
Results & videos of the finals at www.intyouthmatchracingchampionship.com.au
· Facebook @ RPAYCYD @Harken
· Twitter @RPAYCYouthMatch @Harken #AtTheFront #Harken
· Instagram @rpayc @Harken_inc
Further information:
Tom Spithill
RPAYC head coach
m. 0419 246 365 e. Tom.Spithill@rpayc.com.au
Lisa Ratcliff
Harken International media/OCC
m. 0418 428 511 e. lisa@occ.net.au
Just what the Race Officer ordered - Day 3 summary Harken Int. Youth Match Racing Championship
Just what the Race Officer ordered - another day of blue skies, good vibes and fantastic sailing on Pittwater for day 3 of the 2017 HARKEN International Youth Match Racing Regatta. Teams were greeted by a 15-18kt steady NE Breeze to finish off the quarter finals, 9-12 sail offs and semi-finals, allowing our race management team to fire through the draw and determine the 2017 finalists.
Leonard Takahashi (JAP) continued his dominating streak to win the quarter finals against Royal Port Nicholson team Callum Radford (3-0) and then elected to race against 4th placed skipper Jelmer Van Beek in the semi-finals. With clean pre-starts and tidy corners he then won the semi-final 3 – 0 to progress to the finals. Takahashi has made the finals, dropping only one race from the beginning of the regatta in stage 1, an impressive feat amongst elite competitors.
Finn Tapper of the C.Y.C.A sailed a closely matched semi-final against kiwi sailor James Wilson from the R.N.Z.Y.S. In their first match, a penalty was given to Wilson after a port – starboard collision. Tapper then stayed in phase with the breeze and sailed cleanly around the track to take the win. In their second match, Wilson evened the score, winning the pin and sailing to the favored side of the course to maintain his lead to the finish. He then continued his clean sailing in matches 3 and 4, to maintain the lead in both matches and take the second place in the finals against training partner Takahashi (JAP).
Day 2 Decides Top 8 in the Harken Int. Match Racing Championship
After another day of perfect match racing conditions, the round robin has been completed and our top 8 quarter finalists for the 25th Harken International Youth Match Racing Regatta have been determined. Race Officer Ted Anderson has made the most of the building north easterly breeze to complete the round robin and start the quarter finals ahead of the weekend.
Day 2 Action. Credit: Tom VincentToday's racing saw a jump in competitor confidence and boat handling skills as teams settle in to the RPAYC's fleet of Elliott 7's and breeze patterns typical for sailing on Pittwater, often unpredictable. First placed skipper Leonard Takahashi and his Pacific Racing Team from Japan had a strong round robin with 10 wins and 1 loss. Takahashi's only loss was to second ranked skipper, Finn Tapper from the Cruising Yacht Club of Australia who has finished the round robin on 9 wins and 2 losses.
Close behind Tapper in 3rd place is James Wilson from the Royal New Zealand Yacht Squadron's Youth Training Program on 8 wins. RNZYS coach Reuben Corbett who is also coaching Takahashi and his Pacific Racing Team, commented "I hope both my teams finish on the podium this year, it's great to see them on track at the end of the round robin".