Day 1 video https://youtu.be/k0BebdIz7y8
Three races into the 2018 Etchells NSW Championship and the 1984 class world champion Iain Murray and one of his crew from that campaign lead the series and an A-grade fleet.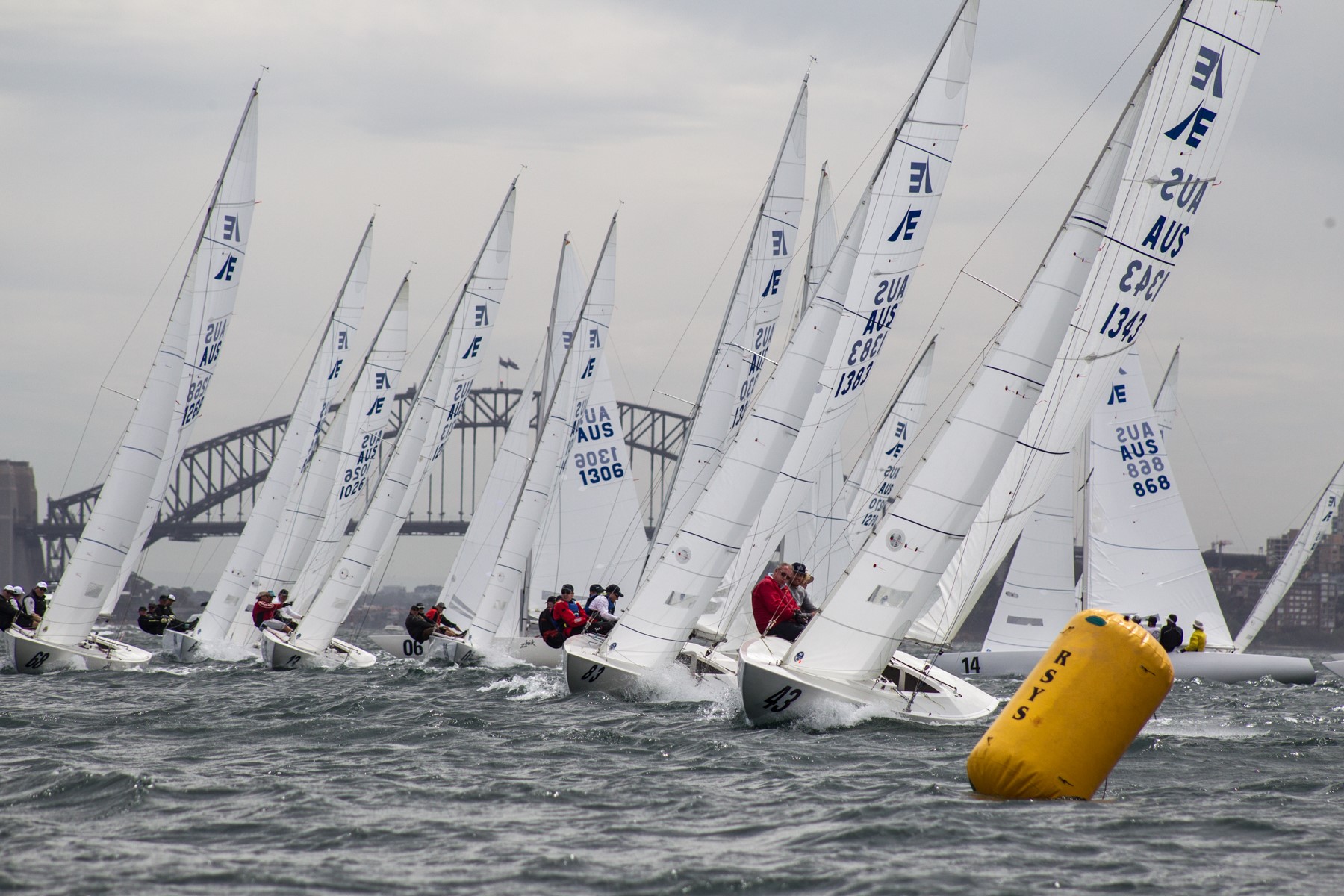 2018 Etchells NSW title fleet upwind_credit Darcie C Photography
Each race produced a different top three on day one, Friday February 16, 2018, sailed in average 15 knot sou'easters on Sydney Harbour under the Royal Sydney Yacht Squadron and Sydney Etchells fleet banner.
Murray's Northern Havoc leads Chris Hampton's Tango, the defending NSW champion from Victoria, and Tom King's Iron Lotus, another former world championship heavyweight.
"We had a good day considering we started with a recall in race one," Murray said. "The sou'easter was pretty gusty giving quite a lot of opportunities for shifts. There's plenty of golf left in this game.
"Paul Westlake was one of my winning crew in 1984 so other than the odd day yacht here and there it's been 34 years between drinks." Grant Simmer will replace Westlake when it comes to Murray's final world championship line-up, with Richie Allanson the third crew member. "Richie and I are two peas in a pod," the Australian Sailing performance director added.
Hampton hasn't reached the heights of world champion yet, but he's managed some noteworthy class results and on debut at the state title was well placed among the talent pool he says goes very deep.
"Our results improved as the day went on; we don't have any local knowledge and having an island at the top end of the course was a new experience for us, and a bit of a handicap for the visitors. Our boat speed was good and we could hold lanes. We are on a worlds campaign taking in the major regattas and we'll just keep pushing on."
Second in race one was Peter Alexander, a popular four-decade long Etchells veteran whose nickname is Pierre le Grand and boat name is Tonic. Explaining the moniker he says: "I had previously used long names and wanted a short name that was not serious, so Tonic, as in life not the drink with Gin, filled the brief."