PRESS RELEASE:
DRAMATIC FINAL DAY IN THE 8MR WORLD CUP 20.08.17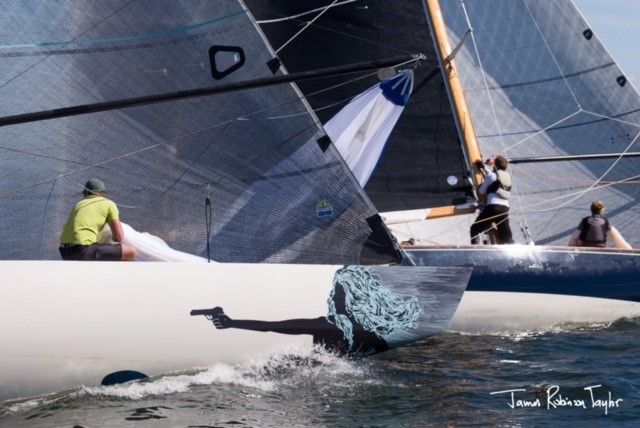 Hankø, Norway
With expectations of strong winds up to 20 + knots, only parts of the float chose to go out and fight for the top positions in the final day of the 8mR World Cup in Hankø.
The overall winner is, without beeing on the water in the second race today, GBR "Miss U" with Avia Willment. With a set of 7 1.places, one 2. and one 3.rd. the modern yacht didn´t have to finish the last race in order to win overall. With 12 points, the modern James Bond-inspired boat was 18 points ahead og number two.
Behind «Miss U», Austrian «Pandora» and Werner Deuring took the second place overall with 18 points, followed by Norwegian "Wanda" and Lars Ingeberg with 37 counting points after deleting the DSQ from day two.
Sira Class
After tight fights among the 4-5 best yachts in the Sira Class, the above mentioned 2. and 3. place «Pandora» and «Wanda», took 1. and 2.place in the Sira Class. Number three in the class for yachts built before 1960, was Canadian "Bangalore" withTerry Mc Laughlin with 42 points.
Number 4 and 5, were both Norwegian, and ended both on 53 counting points. Number 4, «IF» had a lower total sum before deleting the weakest single race result than «Sira».